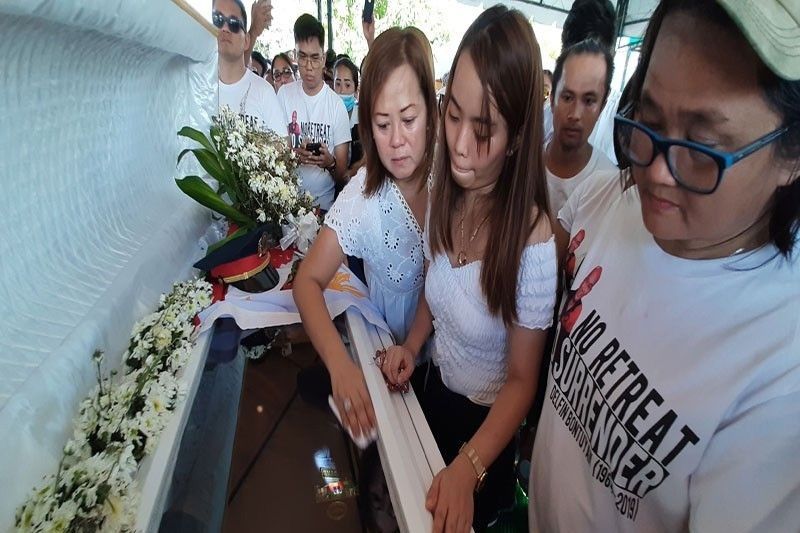 Christine Claire Bontuyan looks at her father's remains for the last time. Read more at https://www.philstar.com/the-freeman/cebu-news/2019/05/31/1922460/daughter-pnp-we-want-truth#5TtmFSzS5DVlzLEH.99
Joy Torrejos
Kaso ni Bontuyan dili kalimtan
CEBU, Philippines – Mipasalig ang kapulisan sa rehiyon siyete ngadto sa pamilya sa gipusil patay nga si Police Captain Delfin Bontuyan, nga dili kalimtan ang iyang kaso.
Sigon ni Police Brigadier General Debold Sinas, director sa Police Regional Office sa Central Visayas (PRO-7) sa Banat News nga ilang tutukan ug padayunon ang kaso.
Hangyo lang nila nga unta hatagan sila og igong oras sa pamilya apil na pud pasensya aron makab-ot ang kamatuoran nga gipangayo ni Christine Claire Bontuyan sa iyang eulogy pag Huwebes dihang gilubong ang maong polis.
"We are one with the family in seeking the truth, we just ask them to be patient," sigon pa ni Sinas.
Sa laing bahin, ang Mabolo Police Station nga maoy nangulo sa imbestigasyon miingon nga taas ang ilang buhatong backtracking tungod sa kadaghan sa kaso nga gitutukan ni Bontuyan sa dihang nadestino pa kini sa Criminal Investigation and Detection Group-7.
Sigon pa ni Police Major Dindo Juanito Alaras, hepe sa Mabolo ila karon tagsa-tagsaon ug subay ang mga kaso ni Bontuyan aron ilang makita kung kinsa kanila ang naa'y motibo sa pagpusil patay kaniya.
Midugang siya nga layo ang posibilidad nga ma "archive" ang kaso ni Bontuyan tungod nga usa sa mga direktiba ni Sinas ang pagsubay sa mga high-profile nga kaso nga niagi sa siyudad og probinsya sa Sugbu.
Si Bontuyan gipusil patay sa wa pa mailhing mamumuno sa North Reclamation Area, hapon sa Mayo 21. (/IBM)(BANAT NEWS)