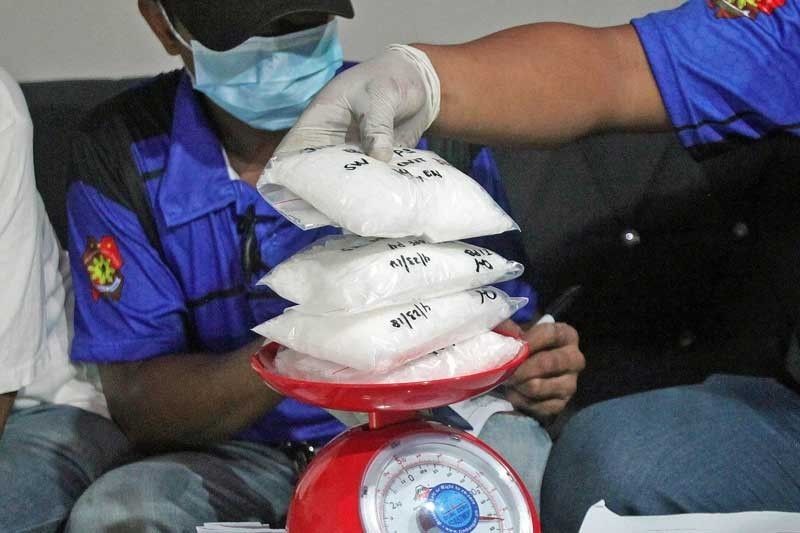 P2 milyong shabu nasakmit
CEBU, Philippines — Sobra P2 milyones nga balor sa drugas ang nasakmit sa duha ka buy-bust operations nga gipahigayon sa kapulisan sa Dakbayan sa Sugbo.
Unang operasyon nahitabo sulod sa Chinese Cemetery, sa Barangay Carreta, hapon adtong adlaw nga Huwebes. Unang nasikop mao si Jerson Bargamento, 21, taga Sitio Lahing-Lahing, Barangay Mabolo.
Nasikop si Bargamento, tungod sa kalapasan sa Violations of Sec. 5 and 11 Article II of R.A 9165 ug Violations sa RA10591 and Resistance and Disobedience to a person in authority. Nangulo sa maong buy-bust operations mao si Police Major Dindo Alaras ug mga kaubanan. Nasakmit gikan kang Bargamento kinsa nagdumili sa pagpasikop mao ang armas nga cal.38 revolver nga adunay duha ka bala.
Gawas sa armas nakuhaan kini og mga pinutos sa ginadili nga drugas nga motimbang ug 8.1 gramos nga mobalor og P55 mil base sa Dangerous Drug Board Value, buy bust money nga P300 nga gituohang halin niini sa illegal nga drugas. Ikaduhang operasyon gihimo diha sa F. Rallos St., Barangay Pasil niana gihapong adlawa nga niresulta sa pagkasikop kang Ronald Romo, alyas Daryl, 32, ug residente sa maong lugar.
Nangulo sa maong operation mao si Police Major Chuck Barandog, hepe sa City Drug Enforcement Unit sa Cebu City Police Office.
Nakompiskar gikan sa dinakpan ang 135 gramos nga mga pinutos sa ginadili nga drugas nga mobalor og P918 mil base DDB Value, sudlanan sa drugas ug buy-bust money.
Samtang sa lain bahin, usa usab ka ambulance driver sa Balamban District Hospital ang nasikop sa Toledo Police Station atol sa buy-bust operations nianang pagkagabii diha sa Barangay Media Onse, Toledo City.
Ang nasikop mao si Angie De Gracia, 37, kinsa nakuhaan og 220 gramos nga shabu nga mobalor og P1.4 milyon.
Matud pa ni Police Staff Sergeant Reyno Allego, Desk Officer sa Toledo City Police Station nalakip sa ilang watchlist si De Gracia, hinungdan gimonitor kini sa ilang team lakip sa ilang hepe.
Ang mga dinakpan nagtingkagol na karon sa prisohan alang sa pagpasaka og tukmang kaso. IBM (BANATNEWS)