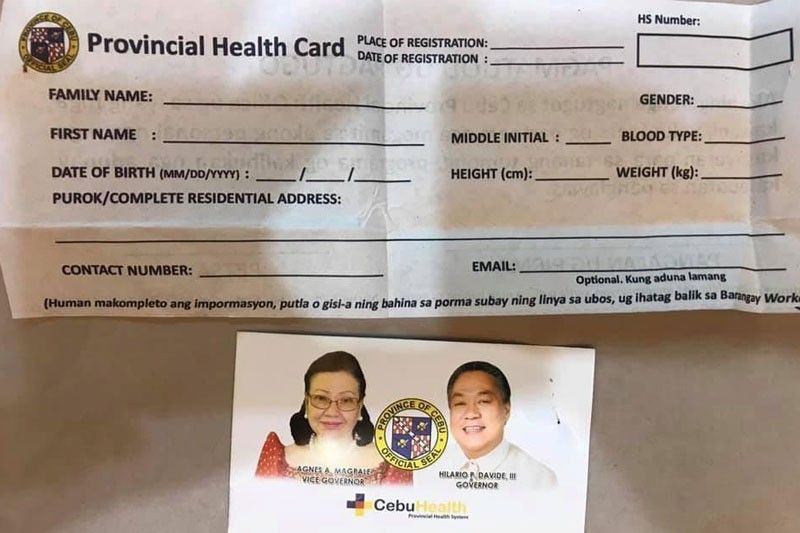 Gipasanginlan ni third district congressional aspirant Pablo John Garcia nga gipamolitika nila ni Gobernador Hilario Davide III ug Bise Gobernador Agnes Magpale ang pagpanghatag sa Provincial Health Cards. Ang maong pasangil gihimakak ni Gob. Davide.
Mga hulagway gikan sa Facebook page ni Pablo John Garcia
Provincial Health Cards gipamolitika?
CEBU, Philippines — Namasangil si congressional aspirant Pablo John Garcia nga gigamit sa kampo nila ni Bise Gobernador Agnes Magpale ug Gobernador Hilario Davide III ang Capitol Social Hall isip political headquarters.
Sa Facebook page ni Garcia, aduna kini gi-post nga mga hulagway sa mga tawo nga giingong mga health personnel nga nagtrabaho sa iapud-apud nga health cards, gamit ang mga trabahante sa gobyerno, kagamitan ug pundo.
"The historic Social Hall is now an assembly line for sorting out, stapling and packaging of Magpale-Davide health cards for distribution to their political allies in the cities and municipalities" matud sa post kagahapon sa Facebook page ni Garcia.
Si Davide mihimakak sa maong pasangil ug nagkanayon nga dili sa Capitol Social Hall ang ilang political headquarters.
Sa laing post ni Garcia, gikwestiyon niini ang pagpanghatag og "provincial health cards" nga matud niya, gikinahanglan aron makakuha og health services sa mga tambalanan nga gidumala sa probinsiya.
"If it's not needed, then this nothing but a shameless, cheap and tacky political gimmick" matud sa post. Gibutang usab sa maong post ang hulagway sa gipanghatag nga health cards.
Sa maong Provincial Health Card, adunay ibutang nga pangalan, adlaw nga natawhan, residential address, gender, blood type lakip na usab ang height ug weight.
Si Magpale nagkanayon nga ang mga health cards magsilbi nga I.D. nga magamit kon makasugat og disgrasya ang gagunit niini, mahibaw-an kon unsa ang blood type kon ugaling magkinahanglan kini og abuno.
Si Davide mihimakak usab nga pamolitika ang pagpanghatag sa maong health cards ug nagkanayon nga usa kini sa gikinahanglan alang sa database health department subay sa Universal Health Care Act.
Ang paghatag sa health cards dugay nang gihimo sa Kapitolyo ug gipaspasan karon kay ang probinsiya mao man ang usa sa pioneer province kon asa ipatuman ang pipila ka probisyon sa Universal Health Care Act
"This is really just to create database because that's what we lack pa. Although we have an existing database but kulang gihapon", matud ni Davide.
Dugang sa gobernador nga ang paghatag sa health cards adunay pagtugot sa Department of Health ug gani aduna silay Memorandum of Understanding nga gipirmahan. Gihimakak usab niini nga kadto rang adunay health cards ang makapahimulos sa health services sa mga provincial ug district hospitals. (/DILT)(BANATNEWS)