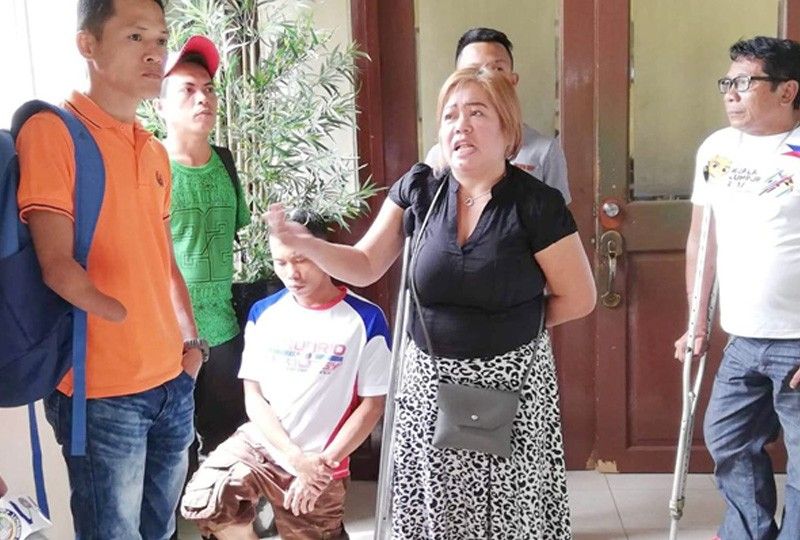 Mipadayag sa ilang suporta kang Mandaue City Mayor Luigi Quisumbing ang mga sakop sa Differently Abled Talent Entertainment Sports (DATES) pinangulohan sa ilang presidente nga si Jocelyn Llesol. Subay kini sa giatubang nga reklamo sa mayor sa buhatan sa Ombudsman-Visayas nga gipasaka sa empleyadong PWD sa city hall nga si Michael Pielago.
Joy Torrejos
Pagpang-harass lang ang reklamo sa PWD – Bathan
CEBU, Philippines — Gihulagway sa kampo ni Mayor Luigi Quisumbing nga pagpang-harass ang kaso nga gipasaka ngadto sa buhatan sa Ombudsman-Visayas batok sa mayor sa Person with Disability (PWD) nga kawani sa kagamhanan sa Dakbayan sa Mandaue.
Si Michael Pielago, 44-anyos, nipasangil kang Quisumbing nga nakalapas sa Akta Republika 7277 kun "Magna Carta for Disabled Persons, Oppression" ug ingon man sa Akta Republika 3019 o "Anti-Graft and Corrupt Practices Act".
Sa pamahayag nga giluwatan pinaagi sa Mandaue City Public Information Office (PIO) si Atty. Elaine Bathan, chief of staff ni Quisumbing naghulagway kang Pielago ug ingon man sa nag-unang upat ka kawani nga nipasaka usab og mga kaso nga naglakip nila ni Damaso Tumulak, Engr. Andres Suson, Florentino dela Paz, Jr. ug Danna Jane Escalante nga mga dumadapig ni incumbent 6th district Congressman Jonas Cortes.
Si Cortes nga kandidato sa pagkamayor sa Dakbayan sa Mandaue sa umaabot Mayo 2019 midterm election maoy nahimong higpit nga kaatbang ni Quisumbing sa iyang pagpasubli sa katungdanan.
Si Pielago niduso sa maong reklamo giingong tungod sa pagbalhin kaniya og buhatan gikan sa House of Mandaue (HOME) o pasilidad alang sa children in conflict with the law (CICL) nga nahimutang sa Sitio Dunggolan sa Barangay Basak sa maong dakbayan ngadto na sa bag-o niining buhatan nga mao ang Housing and Urban Development Office (HUDO) nga nahimutang sa ikaduhang andana sa annex building. Natigayon ang pagbalhin kang Pielago pinaagi usab sa gipirmahan ni Quisumbing nga memorandum niadtong Enero 7, 2019.
Sa maong reklamo ni Pielago iyang gipasabot nga sanglit adunay kabilinggan sa panglawas lisod ang iyang kahimtang sa pagtuman sa iyang gimbuhaton diha sa HUDO.
Sa nasayran nga si Pielago nagsugod sa iyang trabaho sa Mandaue City Social Welfare Office niadtong Septiyembre 1, 2014 dihang si Cortes pa ang mayor sa siyudad ug niadtong Hulyo 26, 2018 gibalhin siya ni Quisumbing ngadto sa HOME.
Si Bathan nipasabot nga ang pagbalhin ni Pielago sa HUDO tungod kay ang maong buhatan nagkinahanglan kini og social worker sa ilang operasyon. BDB, (BANAT NEWS)