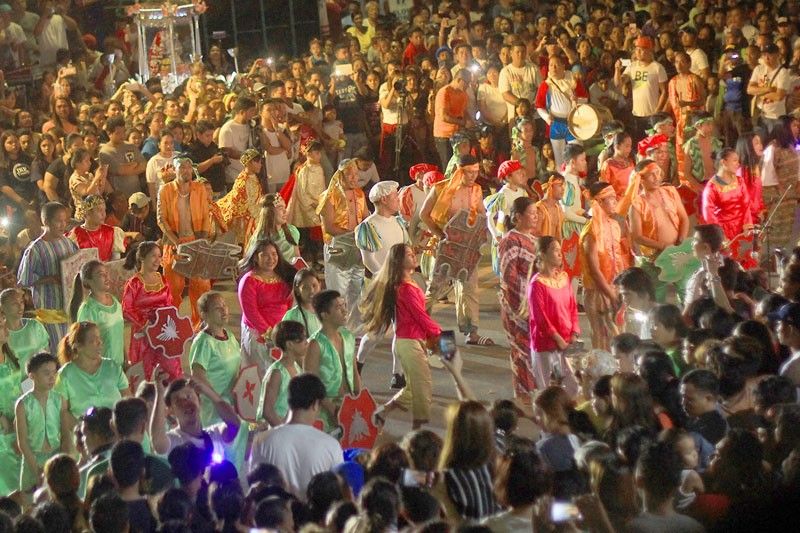 Sa labing unang higayon gihimo sa Barangay Mabolo ang labing una niining Sinulog Festival nga gisalmotan sa nagkalain-laing mga grupo gikan sa ilang barangay.
Aldo Nelbert Banaynal
'Sugbo Balikon Ko Ikaw'- tema sa Sinulog karon
CEBU, Philippines — Ang Sinulog grand finale karong tuiga usa ka drama musical-themed presentation nga gitawag og "Sugbo Balikon Ko Ikaw" nga naghulagway kun unsa ang nabuhat sa siyudad karong panahona.
Samtang kagahapong adlawa, ang Barangay Mabolo mipahigayon sa ilang labing unang Sinulog Festival.
Si Victor Cuenco, chairman ug artistic stage director sa grand finale nakahukom nga momugna og usa ka konsepto kun unsa'y mga hinungdan ngano mobalik gyud sa dakbayan ang mga atoa na nagbase sa abroad.
"We want the world to come to Cebu and see the beauty of the city and the Cebuano people. We come up with this concept base to our Sinulog theme, One Beat, One Dance for the World," siya miingon.
Ang presentasyon gilangkuban sa unom ka bahin nga nagsugod og usa ka drama diin ang mga pamilya kinsa miabot sa dakbayan gikan sa gawas sa nasud.
Ang bag-ong Cebuano nga kantang "Sugbo Balikon Ko Ikaw" awiton pinaagi ni Rudy Avilles ug dinuyogan sa musika ni Nendel Endrina.
Ang pamilya mobisita sa Fuente Osmeña Circle dayon sa nabantog nga Larsians sa Don Mariano Cui St. Cebu City. Ipakita sab ang paningkamot sa presidente sa pagsumpo sa illegal nga drugas, mga lain-laing serbisyo sa transportasyon sa dakbayan, mga moderno nga Public Utility Vehicles (PUVs); Angkas ug motorcyles-for-hire.
Adunay mga dancers nga magsul-ob og uniporme sa metro aides agi'g pagpakita nga ang siyudad hugot nga nagpatuman sa hustong paglabay sa mga basura ug ang "No Segregation, No Collection" policy alang sa ikalima nga bahin.
Dayon sundan kini og drama kabahin sa edukasyon sa kabataan nga diin dako og natampo ang dakbayan
Ang presentation modagan ngadto sa 25 minutos. Adunay 380 ka performers nga gikan sa lain-laing mga eskwelahan ug dance groups nga mosalmot.
Kini mao ang mga performers gikan sa University of Cebu dance company, University of San Carlos dance troupe, University of Cebu-Banilad criminology students, Abellana National High School dance troupe, Golden Ladies of Guadalupe, Don Juan ug uban pa.
Moapil usab kanila si Shaila Mae Rebortera, ang reigning Sinulog Festival Queen. Ang budget alang sa grand finale mokabat sa P2 milyon nga naglangkob sa tanan nga galastuhan sa produksyon.
Ang grand finale presentasyon maoy motapos sa Sinulog grand parade sa Enero 20 diha sa Cebu City Sports Center (CCSC). Sinulog sa Mabolo
Sa laing bahin, ang Barangay Mabolo pinangulohan ni Kapitan Niña Mabatid uban sa ilang kabataan mipahigayon sa ilang labing unang Sinulog Festival kagahapon sa hapon.
Bisan nakamugna kini og traffic sa atubangan sa barangay hall ug St. Joseph "The Worker" Parish daghan ang nalipay sa mga pasundayag.
Apil sa mga misalmot mao ang nabantog nga Turan- Diola Clan ni anhing Estelita Diola nga nailang maong "Keeper of Original Sinug" dance steps, apil gibansagan dance troup, ang Tribu Hugyawanon. (BANAT NEWS)