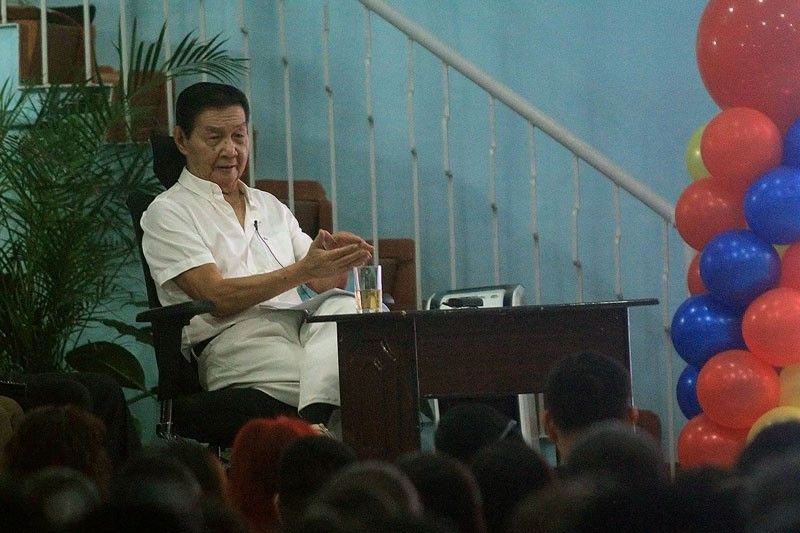 Ang mga kawani sa CEBECO atol sa inugurasyon sa ilang bag-ong buhatan diha sa ALU-TUCP building nga gibuksan kagahapon, sa pikas hulagway mao si Fr. Francisco "Paking" Silva.
Aldo Nelbert Banaynal
CEBECO nibalhin na sa ALU-TUCP building
CEBU, Philippines — Gisubhan kagahapong adlawa ang bag-ong buhatan sa Cebu Electric Cooperative, Inc. (CEBECO) sa Cebu City diha sa karaang edipisyo sa Associated Labor Unions-Trade Union Congress of the Philippines (ALU-TUCP) diha sa Arellano Boulevard.
Ang CEBECO I, II, ug III kaniadto dunay centralized office sa Patria de Cebu Building sud na sa 36 ka tuig nga nahimutang sa P. Burgos Street nga karon gikatakdang ayuhon.
Giablihan pagbalik sa ALU-TUCP ang ilang unang edipisyo nga siyam ka tuig na nilang wala gamita aron magamit sa CEBECO pinaagi sa pagpatunga ni Father Francisco Silva.
Matud pa nga pagkasayod ni Silva sa nahitabo sa CEBECO nga kanhi iyang gialagaran isip general manager kaniadto, iyaha dayong gitawgan ang mga anak ni anhing Democrito Mendoza, nga usa sa iyang mga suod nga higala sa buhi pa kini.
Ang mga anak ni Mendoza mao sila si Raymond, kinsa kasamtangang TUCP president ug si Michael nga mao karon ang ALU president. Wala hinuon mobalibad ang managsuon sa hangyo.
Matud ang Silva gipaspasan ang pagpaayo sa maong edipisyo ug niadtong Oktubre 6 nakagamit na niini ang CEBECO.
Matud niya nalipay ang mga kawani sa CEBECO tungod kay mas lapad ug dako ang maong edipisyo aron ilang maatiman og maayo ang ilang mga kliyente.
Ang Patria de Cebu building gikatakdang ayuhon tungod kay niadto pa kining tuig 1956 gitukod. Ang Cebu Landmasters Inc. maoy giingong mopanindot niini uban sa pakiguban sa Archdiocese of Cebu.
Kagahapong adlawa usab ang ALU ug kadagkoan sa CEBECO nipirma sa gitawag nilang "blood compact of brotherhood, solidarity and partnership" uban nila ni Silva ug Edgar Masongsong sa National Electrification Administration (NEA) isip mga testigo. (BANAT NEWS)