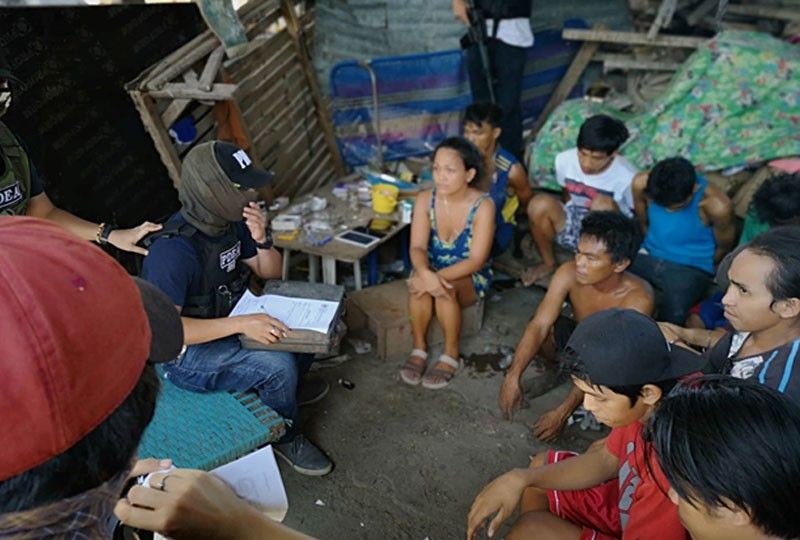 DRUG DENS … Arestado kining 14 ka tawo nga naglakip sa tag-iya sa mga drug dens diha sa Mananga, Tabunok sa Dakbayan sa Talisay sa operasyon kagahapon sa PDEA-7 ug Talisay City Police.
23 sikop, P3 milyong shabu nasakmit
CEBU, Philippines — Kapin 20 ka mga gipasanginlang nalambigit sa ilegal nga drugas ang nangadakpan sa managlahing operasyon sa mga otoridad dinhi sa Metro Cebu, naapil sa nasikop ang giingong pag-umangkon sa napatay kaniadto nga drug lord. Miabot sa 14 ka mga durugista ang nadakpan sa Sitio Mananga, Barangay Tabunok, Dakbayan sa Talisay kagahapon sa hapon nga gilusad sa mga sakop sa Philippine Drug Enforcement Agency-7 ug kapolisan sa maong siyudad.
Apil sa gidakop mao ang mga nag-operate og drug dens sa lugar nga sila si Elissa Alisoso, 53; Vangie Quiñones, 33; ug Leonardo Juarez, 38.
Samtang naatlan sa lugar ang mga gidudahang durugista nga sila si Jerry Quiñones, 31; Leslie Domasig, 28; Ronnel Pardillo, 23; parehong taga Siyudad sa Naga; Ruben Hinodepano, 34; Crissan Luna, 27, mga taga Lungsod sa Asturias; Richard Pautan, 28; Sunny Ripdos, 28; Marvin Alisoso, 28; Eric Labrado, 22, pulos taga Ocaña, Siyudad sa Carcar; Jerson Basolo, 35 ; ug usa ka menor de edad.
Ang mga operatiba nakasakmit og 80 ka gagmay nga paketeng gidudahang shabu nga nitimbang og 50 gramos nga mokantidad P340 mil, lima ka cellphone ug ubang mga drug paraphernalia.
Sa laing operasyon, nadakpan ang 19- anyos nga si Field Somobay Secretaria sa buy-bust operation sa kapolisan diha sa Sitio Ermita Proper, Barangay Ermita, Cebu City.
Si Secretaria giingong pag-umangkon ni Rowen Secretaria alyas Yawa nga gikatahapang drug lord dinhi sa rehiyon kinsa napatay niadtong 2016 sa isla sa Banacon, Lungsod sa Getafe, Bohol. Nakuha gikan kaniya ang lima ka dagkong putos sa gidudahang shabu nga gibanabanang mokabat kapin P3 Milyones.
Matud pa ni Cebu City Police Office director Royina Garma sa press conference posibleng nadak-an na ni Fiel ang ilegal nga negosyo sa uyang uyoan. Matud niya kaniadto pa naapil sa watchlist sa mga high value targets ang batan-ong Secretaria.
"It is very sad to say na he is very young. As early as nuong bata pa siya, he was already exposed in the drug trading. He learned just by seeing his uncle, or other family members," si Garma nagkanayon.
Samtang nadakpan usab sa mga sakop sa Pari-an Police Station sa buy-bust operation sila si Antonio Guevarra Jr. 35, ug Neil Patrick Brual, 27, parehong taga Quezon City.
Ang target unta sa kapolisan mao ang usa ka ginganlan og Stephanie apan nakaikyas kini ug ang duha maoy naabtan ug nakuhaan og mga pinutos nga ginadili nga drugas, buy-bust money, usa ka paltik nga armas nga dunay unom ka bala.
Sa Barangay Dapitan, Lungsod sa Cordova nadakpan sa buy-bust operation sa Cordova Police Station sila si Ereneo Ybañez, 37; Dennis Daro, 52; Rodito Antiporta, 47; Roberto Tajanlangit, 42.
Si Ybañez ang napalitan og usa ka gamay nga paketeng shabu ug nakuhaan usab nila og kalibre 38 nga armas uban sa mga bala niini ug giapil sa pagdakop iyang mga kauban tungod sa nakuhang mga drugas. Samtang nasikop sa mga sakop sa City Intelligence Branch (CIB) sa Lapu-Lapu City Police Office sila si Jerome Protacio Villanueva ug Rey Bersano Medalla nga taga Barangay Basak ug taga Barangay Pusok sa maong dakbayan tungod sa paghupot og 1.96 gramo nga gituohang shabu. - Camille Pateres, Rowena Capistrano ug Romneo T. Limpangog, IBM (BANAT NEWS)