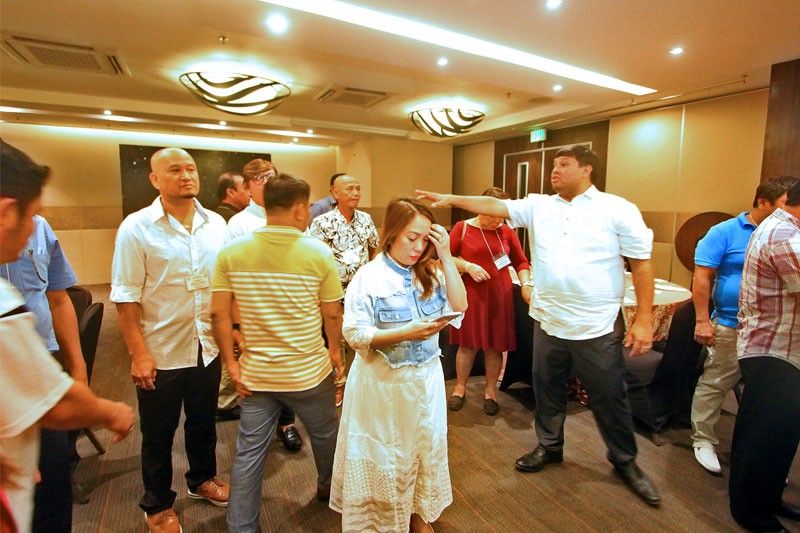 Ang grupo ni Barangay Mabolo Kapitan Niña Mabatid uban sa mga supporters niini sa Barug Team Rama-PDP Laban ni-walkout sa voting area human nga nakita nilang nisulod didto si Cebu City Mayor Tomas Osmeña.
Aldo Nelbert Banaynal
Mabatid ug kaubanan mi-walk out, Ong nidaog pagka ABC President
CEBU, Philippines — Mi-walk out si Cebu City Barangay Mabolo Kapitan Niña Mabatid ug ang mga supporters niyang mga kapitan sa Barug Team Rama PDP-Laban sa Association of Barangay Councils nga gipahigayon sa Bayfront Hotel ning siyudad kagahapon.
Dili momenus 30 ka mga kapitan ang mi-boycott sa piniliay tungod sa pag-adto ni Cebu City Mayor Tomas Osmeña ug misulod sa voting area nga base sa rules and regulations ang mga guests tugutan lang makasulod sa voting place atol na sa proclamation sa mga winning candidates.
"Mayor Osmeña was inside then he got out when we came in and you had him ask some questions outside the door of the voting place. So we are questioning why he was there to influence or to harass those BOPK Captains who have given their choice for Niña that's why we are boycotting this particular exercise," matud ni Mambaling Barangay Captain Gines Abellana nga maoy running mate ni Mabatid.
Apan bisan pa sa pag-boycott gipadayon gihapon ang ABC Election.
Si kanhi ABC President ug Tisa Barangay Captain Phillip Zafra nga mao sab ang Chairman sa Registration and the Credential Committee miingon nga wala'y rason nga dili mapadayon ang ABC Election ug ang tanang 80 ka mga barangay kapitan qualified nga mobotar ug magpapili.
Girespetar ni Zafra ang desisyon niadtong mga kapitan nga mi-boycott apan kini mitataw nga ang iyaha mao nga mohimo lang siya sa iyahang trabaho ug ipadayon ang eleksiyon sanglit ilaha man sab kining asosasyon.
"The process and the proceeding which we have adopted and you know implemented in the conduct of election for me within the bounds of Liga ng mga Barangay Constitution and bylaws as well as election code," asoy ni Zafra.
Human makabotar ang mga kapitan gipahigayon dayon ang iniphanay ug ang resulta tanang mga kandidato sa BOPK nga nagpapili ang midaog gikan sa President ngadto na sa Board of Directors.
Ang mga newly-elected ABC officials sa Cebu City gilangkuban nila ni Franklyn Ong sa Barangay Kasambagan isip Presidente, Victor Buendia sa Barangay Labangon nga Vice President ug Carlo Yap sa Barangay Pahina Central isip Auditor.
Gilangkuban sab ang mga Board of Directors nila I Rex Millan sa Barangay Kalubihan, Manuel Gaunzon sa Barangay Capitol Site, Omar Durano sa Barangay Cogon Ramos, Nilo Tariman sa Barangay Pit-os, Gremar Barete sa Barangay Buhisan, Susan Enriquez sa Barangay Kinasang-an, Michael Gacasan sa Barangay Guadalupe, ug Manolita Abarquez sa Barangay Poblacion Pardo.
Si Ong nakakuha og 51 ka botos samtang zero vote kang Mabatid, samtang adunay duha nga mibotar apan ang gibutang sa ilang balota: "God Bless ABC."
Plano karong kwestiyunon sa kampo ni Mabatid ang legalidad sa resulta sa eleksiyon nga ilang gihulagway nga fake ug farce election tungod kay ang mga kapitan lang sa BOPK ang mibotar ug wala'y kontra.
Nangangkon siya nga nakuha gyud niya ang gikinahanglang gidaghanon sa mga kapitan aron siya modaog. Siya nangangkon nga adunay 18 ka mga kapitan gikan sa BOPK ang misaad nga mobotar kaniya apan nagtuo siyang nahadlok sila mao nga nausab ilang hunahuna.
Sumala pa niya, sa wala pa ang piniliay gidala sa usa ka balay ang mga kapitan ug didto gihadlok sila.
"How can I even participate on this election nga di man gyud ni siya fair election, it's not an ABC election gyud it is a BOPK election. I have enough reason I will not say withdraw but to boycott for this election and it's up the lawyers what necessary complaints that we will be filing but ako mismo mosulti ninyo nga binuang gyud ni nga election," ni Mabatid pa.
Apan si Mayor Tomas Osmeña miingon nga napildi gyud si Mabatid ug mapasigarbuhon kini sa iyang mga kapitan nga wala gyud modawat sa gitanyag nga kwarta ug wala gibaligya ang ilang botos.
"Harassment? Intimidation? You tell me. Drama, they know they're going to lose, they tried until the last minute, they know they're going to lose, hilak-hilak man sila, sige walk out," asoy sa mayor.
Gihimakak ni Ong ang pasangil nga gidala sa usa ka balay ang mga kapitan ug gihadlok.
"It's their right, whatever they want to do. Dili gidili, we had a team building with all the Kapitans, ang uban niadto, naay wala niadto, naay niadto niuli so dili na siya ingon gisulti nila nga gihipos something, di man na mga bata, it's a free choice for them to vote," ni Ong pa.
Sila si Ong ug mga kaubanan mihurar na sab kang Cebu City Mayor Tomas Osmeña kagahapon sa Cebu City Hall. (BANAT NEWS)