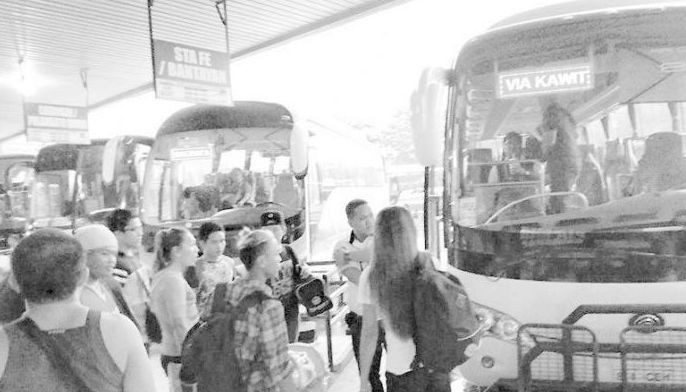 Ang mga pasahero paingon sa kalungsuran makasinati na unya og pagmahal sa ilang plitehan kay ang mga bus operators nakahukom nga ipatuman na nila ang karaang taripa nga aprobado sa LTFRB nga wala lang nila ipatuman dayon.
Joy G. Torrejos
Plite sa bus, minibus mosaka
CEBU, Philippines — Sugod sunod bulan, mahimo nang P6 ang pletihan sa unang lima ka kilometro ug dugang P1.20 usab alang sa mosunod pa nga kilometro sa mga bus ug mini bus sa lalawigan sa Sugbo.
Kini pagsubay sa insaktong pletihan base sa taripa nga giaprubahan sa Land Transportation Franchising and Regulatory Board (LTFRB).
Ang Cebu Provincial Bus and Mini Bus Operators Cooperative (CPBMOC) nagkauyon nga sugod Pebrero 1, sugdan na ang pagpatuman sa hustong pletihan nga wala nila ipatuman sugod niadtong tuig 2015 subay sa hangyo ug kasabotan sa ilang grupo ug sa Kapitolyo.
Nagpasabot kini nga kon pananglitan ang bus o mini bus padulong Carcar, maningil na kini og P48 gikan sa Cebu South Bus terminal (CSBT) sugod sa Pebrero; samtang kon padung sa Barili P72 na gikan sa P60.
Kagahapon ang mga bus ug mini bus operators nagkauyon kini nga i-terminate na ang ilang kasabotan sa probinsya diin P5 lang ang pletihan sa unang lima ka kilometro ug P1 sa mosunod nga kilometro.
Matod ni Julito "Julie" Flores ang presidente sa CPBMOC nga ila kining gihimo tungod na usab sa pagsaka sa presyo sa krudo. Siya mipasabot nga dili kini pagsaka sa pletihan kon dili nisubay ra sa taripa nga gi-set sa LTFRB.
Si LTRFB-7 regioanl director Ahmed Cuizon nagkanayon nga mas maayo nga pahibaw-on si Gob. Hilario Davide III sa maong lakang sa mga bus operators.
"There are still number of days nga mo-implement sila. So, therefore I will appreciate it nga i-inform ang gobernador," matud ni Cuizon.
Si Flores nisaad nga motuman gihapon sila sa hangyo sa gobernador nga adunay tukmang discount ang mga estudyante, senior citizen ug ingon man ang mga person with disabilities. (BANAT NEWS)