Sta. Lucia sticking with old roster for next PSL season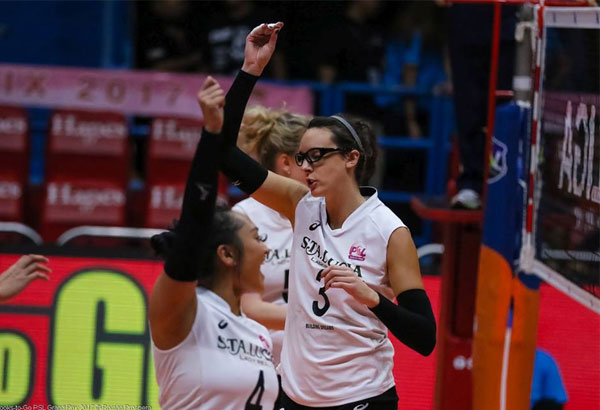 Marissa Field of Canada and Sta. Lucia's other imports are expected to return to the team for the upcoming PSL conference. | Philippine Superliga/ Roman Prospero
MANILA, Philippines – Sta. Lucia Realty will not shake up its roster when it campaigns in the Philippine Superliga (PSL) Grand Prix on February 17.
Head coach George Pascua said they are looking to bring back imports Kristen Monks and Marissa Field of Canada as well as Bohdana Anisova of Ukraine to compete with their local players in the import-flavored conference.
The contracts were formally sent last Monday and the foreign players are expected to come up with an answer any time soon while the negotiations with local players are still ongoing.
So far, Rebecca Rivera and Pamela Lastimosa are cinch to return after inking a fresh pact with the Lady Realtors.
"The management wants to pick up where the team left off last year," said Pascua, the former Cignal tactician who formally took the coaching reigns from Jerry Yee last week.
"This team has so much potential. That's why the management wants to bring back everybody, including the imports. They believe that the cohesiveness from last season was already developed."
The Lady Realtors have until Friday to submit their protected 10-woman list.
Pascua said the main objective of sticking to their previous roster is to maintain their jelling and chemistry. 
When he was coaching Petron, he was able to successfully lead a star-studded roster of Rachel Anne Daquis, Aby Marano, Fille Cayetano and Dindin Santiago to a historic 13-0 sweep of the All-Filipino Conference.
His luck was carried over when he moved to Foton as the Daquis, Royse Tubino and Jovelyn Gonzaga snatched the Invitational Conference title out of their sheer hard work and good working relationship.
It's something he wants to instill at Sta. Lucia.
"I want to instill family orientation and the culture of winning, discipline and camaraderie. I'm glad that the management is very supportive to my plans," he said.
comments powered by

Disqus