Morente might see action for F2 Logistics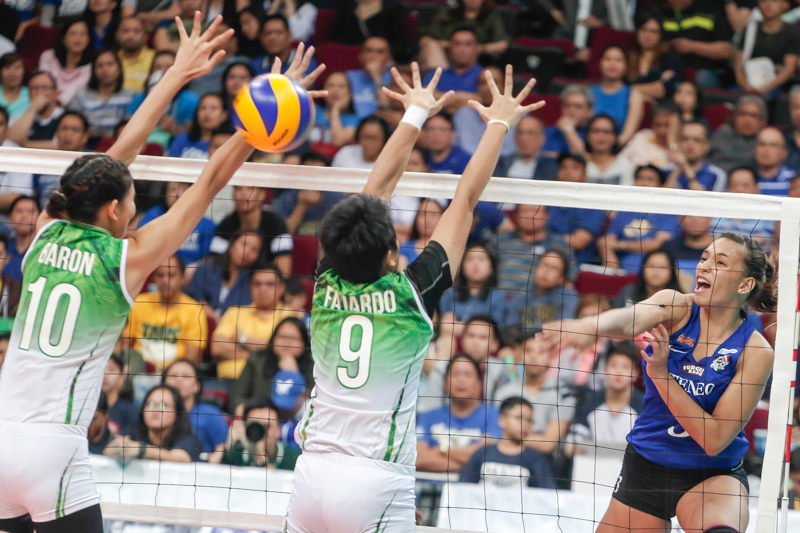 Mich Morente | philstar.com/Efigenio Toledo IV
MANILA, Philippines — Michelle Morente's chances of making her debut in the Philippine Superliga (PSL) next year appear bright and sunny.
According to F2 Logistics head coach Ramil de Jesus, Morente is very much eligible to suit up for the Cargo Movers in the PSL Grand Prix without hurting her residency status at De La Salle University.
De Jesus, who steered the Lady Spikers to 10 UAAP titles, admitted that he is seriously looking at tapping Morente for the Grand Prix since they will be depleted following the departure of collegiate stars Majoy Baron, Kianna Dy and Dawn Macandili.
The troika, which de Jesus tagged as the "nucleus" of the Cargo Movers, will be missing the import-flavored Grand Prix as the new PSL calendar directly collides with that of the UAAP.
With that, de Jesus has to search elsewhere to fill the dearth that would be created by their absence.
"It all depends if the team owner (of F2 Logistics) requests her to play," said de Jesus following the Cargo Movers impressive straight-set victory over Iriga City in the quarterfinals of the Chooks to Go-PSL Grand Prix late Tuesday at Filoil Flying V Centre in San Juan.
"If they want her to play, we will field her. If not, she will stay in school and focus on her studies while serving her residency."
An insider from F2 Logistics revealed that there's a lovely chance for the former Ateneo de Manila star to suit up in the Grand Prix.
The source said the role of Dy -- or the opposite spiker position -- is very crucial to de Jesus' gameplan and the inclusion of a hardworking opposite like Morente would be the solution to that nagging problem.
Aside from Morente, Ara Galang would also be activated while skipper Cha Cruz will be re-inserted into the rotation.
De Jesus confirmed the veracity of the claim, but stressed that it will also depend on the condition of Morente and her adjustments to his system.
"Right now, I'm happy with her condition. She really lost a lot of weight. I can see that she really improved a lot," de Jesus said, adding that Morente also gets to train with imports Maria Jose Perez and Kennedy Bryan as the Cargo Movers' training coincides with that of the Lady Spikers.
"We just have to check if she could cope up with our system before deciding if she's ready for the Grand Prix. But I can see that she's working hard. After all, she's already used to hard training after surviving the (training program) of (Ateneo) coach Tai (Bundit)."
"Let's see. Anything can happen."
comments powered by

Disqus