Blaze Spikers seek to rebound vs Tigresses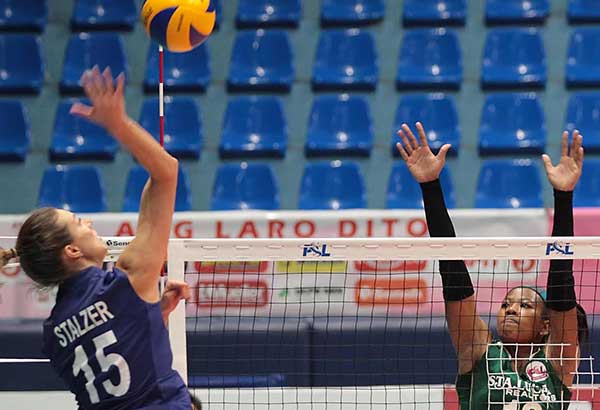 The Blaze Spikers, led by former MVP and two-time champion Lindsay Stalzer of the US, compatriot Hillary Hurley and Japanese libero Yuri Fukuda, are out to bounce back from their setback to the F2 Logistics side that snapped their three-game run in Bacolod last weekend as they try to stay within striking distance of the unbeaten Foton Tornadoes (4-0). Jun Mendoza, File
Games today
4:15 p.m. – Iriga City vs Generika-Ayala
7 p.m. – UST vs Petron
MANILA, Philippines — Petron tries to recover lost ground as it plays guest team UST today while Iriga City and Generika clash in the other match in the Chooks-to-Go Philippine Superliga Grand Prix at the Filoil Flying V Center in San Juan.
The Blaze Spikers, led by former MVP and two-time champion Lindsay Stalzer of the US, compatriot Hillary Hurley and Japanese libero Yuri Fukuda, are out to bounce back from their setback to the F2 Logistics side that snapped their three-game run in Bacolod last weekend as they try to stay within striking distance of the unbeaten Foton Tornadoes (4-0).
They are heavily fancied to get past the Tigresses in their 7 p.m. match with the latter, priming up for the UAAP wars, also coming off a four-set loss to the Cocolife Assets Managers last Monday.
The Paul Doloiras-mentored UST bested Cocolife in the service box, 8-4, and had fewer errors, 21-30, but the Assets Managers imposed their will in spiking, blocking, digging and setting departments to fashion out the victory.
Meanwhile, Iriga City tries to rebound from a straight-set setback to Foton the last time out as it takes on Generika-Ayala at 4:15 p.m. The Oragons will also try to move on without Grethcel Soltones, on loan to Iriga who was sacked for one-year and fined P50,000 for playing in a fund-raiser in her mother league.
"It's still early in the conference. We also have our plan B, though the locals who will fill in her spot are still struggling in offense and it seems they are not yet ready with the position I gave them. But they still have room to grow," said Iriga coach Parley Tupaz.
comments powered by

Disqus