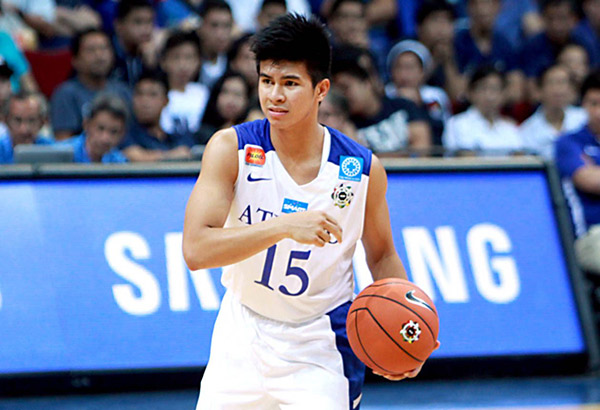 Ateneo's Kiefer Ravena
MANILA, Philippines - The 15,638 paying patrons at the Mall of Asia Arena and countless more on television and free livestream feed who got to watch the Season 77 UAAP game between the Ateneo Eagles and University of the East Warriors got a treat.
All of us were served a classic.
And I have several thoughts.
1. Ateneo had literally come out from the grave in digging its way out of a 21-point hole and snatching a 93-91 overtime victory over a hard-luck UE squad. A spectacular game by Kiefer Ravena won it for the Eagles. The player everyone likes to call "The Phenom" torched the Warriors with a spectacular 38-point performance to almost singlehandedly carry the Eagles through.
2. Let's put everything in perspective regarding Ravena's memorable game. Smart Bro-powered UAAP statsman Pong Ducanes said Ravena shot 8-of-20 from the field and 19-of-25 from the free throw line. The effort is also the highest since Jeff Napa erupted for 43 in a 98-92 National University win over Adamson on Aug. 22, 2002. If we stretch back to the late it will also be one of the best single-game scoring occurrences since Paolo Mendoza exploded for 47. Rewind further, it was the best performance by an Atenean since Richie Ticzon, now a Nash Racela assistant at Far Eastern U, went on an offensive havoc several decades back. And by the way, Ravena had nine assists and six rebounds on the side. So impressive was The Kief that his coach, the stoic Bo Perasol, later declared "He's an epitome of a can-do attitude." Well said.
3. Guess what? It's not only Ravena who had a career night. UE's Roi Sumang and Pedrito Galanza did too. Super Sumang machine-gunned his way to 30 points and spiked it with five boards and seven dimes while Galanza was gallant all game with 19 points. Imagine, that's three players in the same game. How often do these kinds of things happen?
4. Speaking of Ravena and Sumang, I was reminded by the shootout of Allan "The Triggerman" Caidic, then with UE, and Pido Jarencio, who was then with University of Santo Tomas in the early 80s. Better yet, it's like Larry Bird and Dominique Wilkins reprising their 1988 Game Seven Eastern Conference semifinal showdown between the Boston Celtics and the Atlanta Hawks. The high-flying Wilkins blew by everyone with 47 points while Larry Legend had 34 points and the win. Or that never-ending duel between Paul Pierce when he was still a Celtic and LeBron James when he was still in the early years of the Cleveland Cavaliers (Yes boys, LeBron did the "The Decision" by moving to Miami and "The Decision 2.0" by going back home). Boy, those were the days.
5. I was knocked off my seat when after the game, UE coach Derrick Pumaren spoke about Ateneo getting gazillions of free throws. Here's what he said. "Hard to beat a team that shot 45 FTs." Pumaren isn't saying anything near what suspended UP coach Rey Madrid said concerning point-shaving, but you get the drift. So let's do a comparative. Pong Ducanes and his Smart Bro stats indicated that UE was assessed 35 fouls as against Ateneo's 29. It translated to the Warriors being rewarded with 30 foul shots but ended making only half of them. The Eagles, for their part, got 45 free throws and made 33 of them. Of the 33, 25 went to, guess who? Kiefer. But as they say, don't complain if you couldn't make 15 free throws and protect a 21-point lead.
Isn't this a special day?
Can I say wow now? Wow!
Follow me on Twitter: @JoeySVillar
Or you can check out my blog at http://sportsmaryosep.wordpress.com/
***
Editor's Note: Joey Villar covers college hoops and other sports as a veteran sports scribe for The Philippine STAR. His views do not reflect those of the STAR and Philstar.com