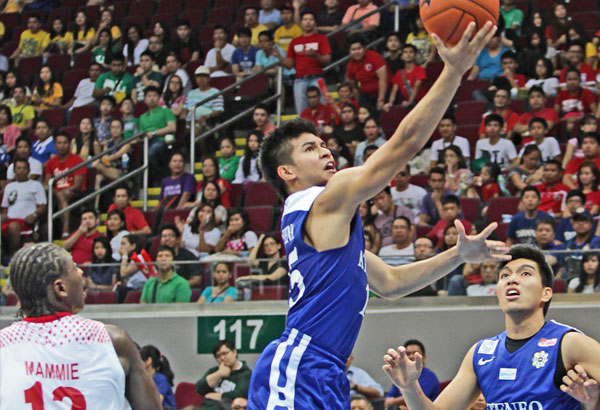 Ateneo's Kiefer Ravena goes up for an easy layup off Charles Mammie of UE while teammate Gwayne Capacio looks on. JUN MENDOZA
MANILA, Philippines - Kiefer Ravena dished out a phenomenal performance spiked by 38 big points to tow a flat-starting Ateneo to a thrilling 93-91 overtime victory over University of the East yesterday in the UAAP Season 77 men's basketball tourney at the Mall of Asia Arena.
The Ateneo skipper laced his new personal high score with nine assists, one steal and six rebounds, taking charge as the Blue Eagles wiped out deficits that reached as high as 21 points to pull through with their sixth win in seven outings for the solo lead halfway through the tournament.
"For me it's just the epitome of showing that can-do attitude regardless of the situation," Ateneo coach Bo Perasol said of his star player.
Ravena engaged UE's Roi Sumang in a sizzling scoring contest reminiscent of the La Salle-National U tussle in Season 75 where Jeron Teng and Ray Parks waxed hot with identical 35s. Sumang finished with 30 markers highlighted by five triples plus seven feeds and five caroms.
"Ayaw ko lang talaga magpatalo. Ganon din si Roi (Me and Roi just have the same no-quit attitude). It's a healthy competition that gives out the best in us," said Ravena.
The 6-foot Ravena knocked in a jumper with 23 seconds left in regulation to force an 80-80 standoff. Not done yet, he drained a huge floater followed by a booming triple in extension as Ateneo took command, 91-85, 59 ticks remaining.
Sumang swished a triple then fed Charles Mammie for a slam dunk that made it just a one-point ballgame but Ravena was there to bail them out with a pair of splits as Arvin Tolentino made a big defensive stop and rebound to secure the win.
Defending champion La Salle turned to Julian Sargent, Jeron Teng and Jason Perkins to break away in the fourth quarter en route to an 83-70 rout of University of Santo Tomas in the other game.