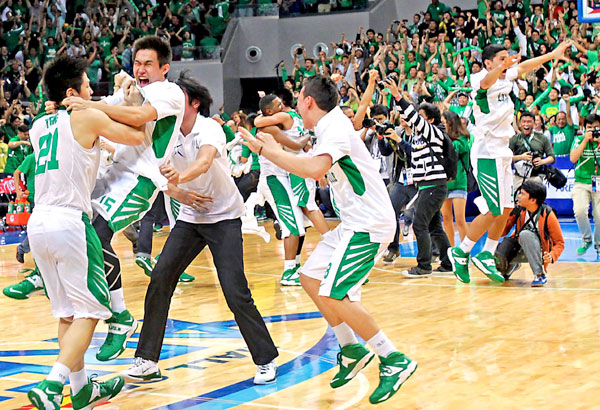 File photo.
MANILA, Philippines - After back-to-back losses to start this season, defending champion La Salle is on a roll, repeating its mastery over UST, 83-70, in the 77th UAAP men's basketball tourney at the Mall of Asia Arena on Sunday.
Despite an injury-plagued lineup, the Green Archers are on a five-game winning streak thanks in part to the efforts of Season 76 finals MVP Jeron Teng, who finished Sunday's match with 22 markers, six rebounds and five assists.
La Salle's Bench players stepped up and contributed, with Julian Sargent shining in the fourth quarter where he scored nine of his 10 points. Robert Bolick, Abu Tratter and Yutien Andrada combined for 13 markers to add to the Archers' cause in a rematch of last year's finals.
"They were just up to the challenge," La Salle head coach Juno Sauler said of his second stringers. "They just want to show what they can contribute to this team."
The Taft-based squad crawled its way to joint second with NU, both toting 5-2 2 win-loss cards behind league-leading Ateneo (6-1)
But with only nine healthy players, Sauler is wary of the second round.
"It's gonna be big (second round)," Sauler said. "We only have nine players. I don't even know how we are going to practice with that."
Starting guard Thomas Torres is out for six weeks due to fractured ankle while back-up guard Kib Montalbo suffered a pulled calf muscle in Sunday's game.
Making matters worse are injuries to big men Arnold Van Opstal (Achilles injury) and Norbert Torres (hand), and rookie forward Terence Mustre (wrist).
Meanwhile, Aljon Mariano had another solid performance with 20 points for the Tigers, who ironically couldn't benefit from him rediscovering his old form as they are now on a two-game skid.
UST fell to the fifth spot with a 3-3 slate.