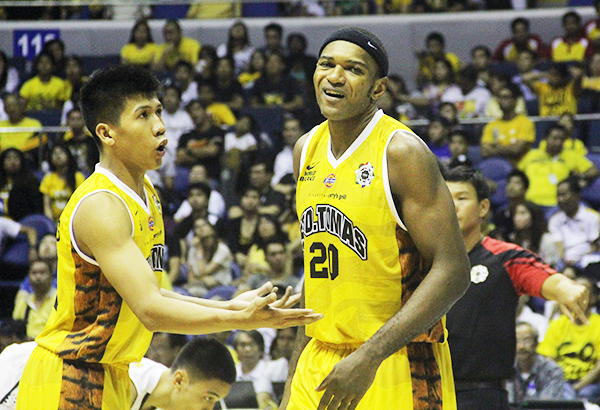 UST Cameroonian center Karim Abdul (R) argues with Ed Daquiao (L). File photo/AJ BOLANDO
MANILA, Philippines - UST center Karim Abdul was vocal about his disappointment following the Tigers' heartbreaking 61-63 loss to Ateneo Wednesday, calling out his teammates and imploring them to play their part.
"We have a lot of veteran players like Janjan (Sheriff) and Paolo Pe who've been here five years, but everybody is not contributing the way we need them to. All those things contribute to the loss in the end," said Abdul, who registered 19 points and 12 rebounds in the loss.
"Some guys don't want to take on their responsibilities. It's really pitiful. It's so hard to accept certain things. If we lose, it's our fault," he added.
Ateneo escaped with the win after Kiefer Ravena hit the go-ahead basket with 3.7 ticks left, something that shouldn't have happened according to Abdul. The Cameroonian big man said they were instructed to foul Ravena when he gets the ball.
"Coach told us to foul Kiefer immediately because we still have fouls to give. It was (Eduardo) Daquioag who was on him, and I don't know about his presence of mind at that time but we didn't foul," explained Abdul.
Asked about the positive things the team can take from the loss, a disappointed Abdul was at a loss for words before stating his dismay with their attitude.
"I don't know what to say. Every game, we say 'bawi' next game, and then we do the same mistakes. It's just hard," he ended.
The Tigers will face a streaking La Salle squad on Sunday, Aug. 10, at the Mall of Asia Arena.