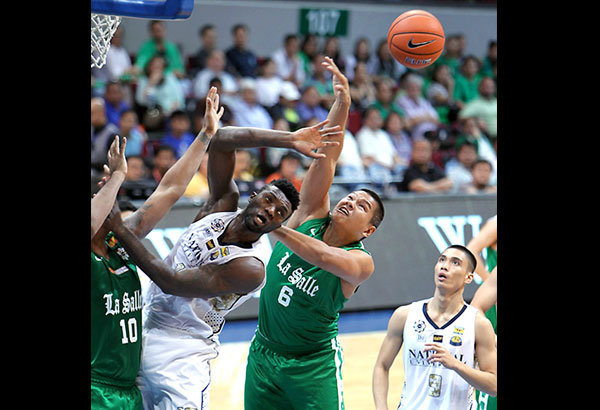 La Salle's Norberto Torres (6) and NU's Alfred Aroga dispute the leather in a rebound play as Archer Jason Ferkins (10) and Bulldog Raphael Atangan look on during their UAAP men's basketball duel at the MOA Arena. File photo/JOEY MENDOZA JR.
MANILA, Philippines -- National University Alfred Aroga may be capable of dominating a game, but that's not what the Cameroonian center has in mind for the Bulldogs to succeed in the UAAP men's basketball tournament.
"As far as I'm concerned, I can't talk like an individual player because everything that matters is the team," said Aroga, "We're just playing as a team and we don't care about our stats. We just care about helping each other being better."
But Aroga, named as the UAAP Press Corps-Accel Quantum Plus/316 Player of the Week, has shown how big he has been for the team.
Last Sunday, Aroga came through on both ends as the Bulldogs escaped the University of the East Red Warriors, 57-55, to grab the solo lead with a 5-1 record.
The 6-foot-7 Cameroonian center buried the Bulldogs' final bucket with over two minutes left, before stepping up on the defensive end in the dying seconds, where he forced UE guard Roi Sumang to miss a driving layup that would have extended the game.
Aroga finished with a double-double of 18 points and 15 rebounds on top of two assists and a block.
"He gives us that inside presence, especially in rebounding," said NU coach Eric Altamirano. "He gave us 15 rebounds. More than the points, his rebounds are very important."
Aroga also had 10 boards to go with six points, three assists and six of the team's 10 blocks in the Bulldogs' 37-point crushing of the Adamson Falcons, 62-25, last Wednesday.
"I just did my best in trying to execute what coach wanted me to do," said Aroga.
Aroga edged Ateneo's Kiefer Ravena and Far Eastern University's Mark Belo for the weekly citation backed by Bactigel hand sanitizer, Doctor J Mighty Alcohol and Mighty Mom Anti-bacteria.
More than earning individual honors, Aroga said he wants to focus on sustaining the success of the Bulldogs, who were hardly seen as contenders following the departure of two-time Most Valuable Player Bobby Ray Parks.
"Each game, a different person comes out as player of the game," said Aroga. "It's not all about a single player here. It's about the team."