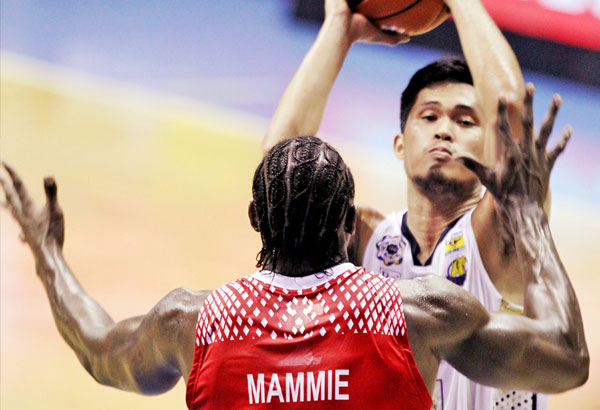 Angelo Alolino of National University looks for a receiver as he is guarded by Charles Mammie of the University of the East in UAAP Season 77 yesterday at the Araneta Coliseum. JOEY MENDOZA JR.
MANILA, Philippines - National U rode on a big 9-0 tear and clamped down on defense in the stretch to eke out a come-from-behind 57-55 victory over University of the East and keep the solo lead in the UAAP Season 77 men's basketball tournament at the Smart Araneta Coliseum yesterday.
Cameroonian Alfred Aroga banged in 18 points and 15 rebounds in a dominating performance that helped the pacesetting Bulldogs complete the win, storming to their third straight and 5-1 overall.
"It was a tightly contested ballgame; it could have gone either way. But I just want to commend the boys for their resiliency in the end. They just refused to lose," said NU coach Eric Altamirano, whose wards trailed by 11 points early on.
"In the early part of the game, we kind of forced the issue and lost our discipline. But come the third quarter, we got our acts together and got back to where we're really strong at - defense - so I think it came down to making stops in the end," he added.
Facing a 48-54 deficit, the Bulldogs shackled the Warriors and fired nine unanswered points in a three-minute stretch, making the most out of their offensive rebounding to turn the game around and seize a 57-54 margin going to the last 2:15.
UE, which trimmed the NU lead to two at 55-57 on a split by Roi Sumang, still had the chance to go for an equalizer or even a game-winner having ball possession with 17.1 seconds left. Sumang drove past Nico Javelona but found Aroga waiting underneath to challenge his up-and-under shot that missed the mark. Aroga picked up the rebound as NU supporters who included former star Bobby Ray Parks, Jr. celebrated.
"We knew they were going to Sumang. Of course, we didn't want to give up a three, at least we can give up a two but we wanted to contain him really well, force him to one side where we know there will be help coming and true enough, Alfred was there to help up Javelona on the drive," Altamirano said.
Glenn Khobuntin added 14 points plus eight rebounds and two assists and Troy Rosario came up with 11 markers and five boards to complement Aroga.
Bong Galanza and Sumang shot 16 apiece for the Warriors, who fell to their third straight loss after a 2-0 start. Charles Mammie and Moustapha Arafat went scoreless in their matchup with Aroga.
In the second game, Kiefer Ravena uncorked 12 of his 23 points in the payoff period to power Ateneo to an 81-78 victory over Far Eastern U and solo second with 4-1.
Taking charge in the crunch, Ravena knocked in a fadeaway jumper, a booming trey and two freethrows in succession to give the Blue Eagles a 75-66 cushion going to the last 1:15. The cagers from Katipunan hung tough in the face of a searing fightback by the Tams with Ravena's split restoring a three-point spread with 2.4 seconds left.
Mike Tolomia launched a Hail Mary shot from near centercourt that hit the glass and didn't go in, leading to FEU's second setback in five games for a share of fourth with La Salle.