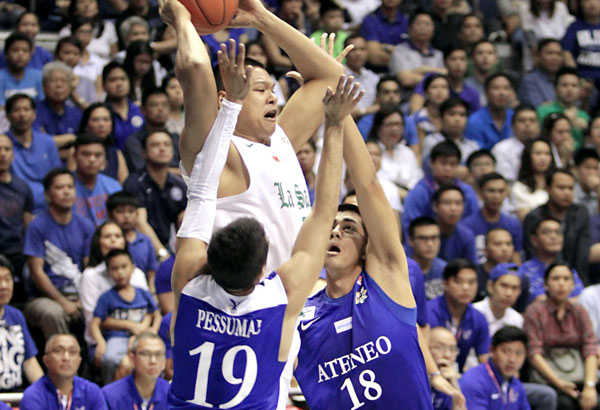 La Salle's Norbert Torres looks for an open teammate as he tries to fight off Ateneo's tough defense put up by Von Pessumal and Gideon Babilonia during the two team's clash in the UAAP men's basketball tournament at the Big Dome. JUN MENDOZA
MANILA, Philippines - In a seeming reversal of roles, Ateneo, the team on a "rebuilding" stage, played as if it were the hardened champions and La Salle, the fancied holders, couldn't keep pace, particularly at crunch time.
With Kiefer Ravena and three others dishing out career games and hitting big shots after big shots, the Blue Eagles tripped rivals Green Archers, 97-86, in a show-of-force for the Katipunan-based squad in yesterday's UAAP Season 77 men's basketball hostilities.
By pulling off the huge triumph before a crowd of 17,344, the Eagles not only grabbed a share of the lead with a 2-0 card but also handed the struggling Archers their second consecutive loss, the Taft-based cagers' first 0-2 start since Season 74.
"I was telling them it's going to be an uphill climb against La Salle. If you're going to coast, I don't think we're going to win but if we keep on giving our effort we had a good chance," Ateneo coach Bo Perasol said.
Perasol drew herculean efforts from his wards.
Ravena fired a new college personal-high of 29 points, his four booming triples in the fourth sparking a lethal 24-12 assault that pushed Ateneo to an 85-71 lead.
Von Pessumal came off the bench to bang in a career-best 21 markers, making the most damage in the second period where Ateneo got back in the game after falling behind by 4-13 early on.
Transferee Fonso Gotladera poured 17 markers and eight boards, a new milestone for the ex-Archer who spent most of his previous two years with La Salle on the freezer and tallying two points in 13 forgettable games in a green jersey.
Rookie Arvin Tolentino came up with a 14-point, 10-rebound output showcasing his big potential for the young team that proved its worth against the consensus team-to-beat.
"The only chance we have of beating La Salle is to play it by possession. When we went down, 4-13, I just reminded them they can't hang their heads if we're not making our shots, going back, La Salle was making their shots on the other side," said Perasol.
"So at the end of the day, they're able to respond in the way they're making their shots also; Kiefer made his shots, Pessumal, and of course, our golden boot, Alfonso Gotladera," he added.
Ateneo scored 36 points in the payoff period, including those four Ravena triples and another from Tolentino.
"They shot very well from the floor especially in the fourth quarter. I think they had a two-point lead at the end of the third then they pulled away in the fourth because of those big shots by Ravena," said DLSU coach Juno Sauler.
Ravena was stymied by two early fouls and coughed up six points after two quarters. But he came back strong with a nine-point output in the third and a 14-point explosion in the fourth.
"I wasn't able to control myself, sobrang gigil ko nga (I was overeager at the start) I had two early fouls but my coaches calmed me up, they told me to let the game come to me, eventually, I made the shots," said Ravena, who went five-of-seven from beyond the arc.
With Ateneo enjoying a 14-point spread going to the last 2:06, La Salle resorted to a fouling spree. Gotladera, Nico Elorde and Ravena however cashed in on nine of the team's 15 foul shots in the dying stages to preserve the win.
Jason Perkins paced La Salle with 25 markers and 10 rebounds while Almond Vosotros had 18 points and Jeron Teng punched in 15 points and grabbed 12 boards.
"There were some instances when it showed we knew what we're doing and there were instances when you see we're lost. It's really (a problem of) trying to find a way to play consistently for 40 minutes," rued Sauler.