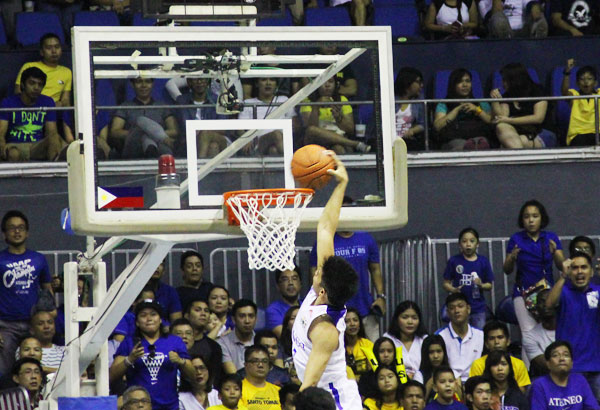 Kiefer Ravena poured in a game-high 22 points along with four rebounds and assists to lead Ateneo de Manila University against Adamson University, 79-57. AJ BOLANDO
MANILA, Philippines -- The Ateneo Blue Eagles had an auspicious debut as they outclassed a listless Adamson Falcons side pulling out a lopsided, 79-57, victory in their opening assignment in the 77th season of the UAAP men's basketball tournament at the Smart Araneta Coliseum Sunday.
Kiefer Ravena poured in a game-high 22 points while Arvin Tolentino and Chris Newsome chipped in 12 points apiece for the Katipunan-based squad.
"We are really young team but I told the guys we can do this my encouragement to them if we dream we are going to wi let's dream all the way," said ADMU coach Bo Perasol.
"This game is not the barometer for the season but I'm glad that we we were able to get the first win," he added.
The Blue Eagles at one point held a 29-point lead when Nico Elorde dropped a floater at the 5:26 mark of final quarter.
"It's a new start for us, we started with a win. This is a stepping stone for us for next game we have to double the effort next game because we are facing the defending champions," said Ravena, who also had four rebounds, four assits and three steals in this game.
Rookie Ivan Villanueva had a respectable debut pacing the Falcons with 15 points while Jansen Rios added the same output for the losing side.