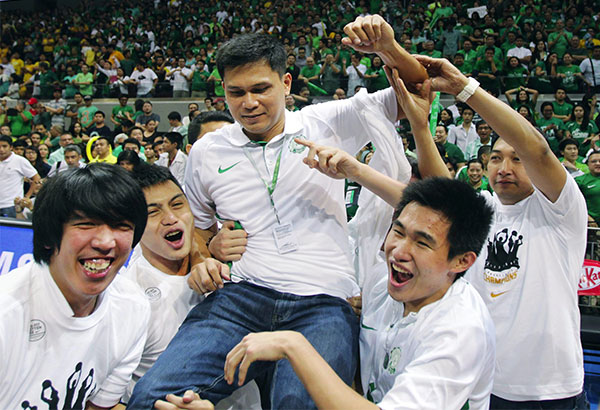 La Salle coach Juno Sauler gets a victory ride during last year's UAAP title conquest.
Games today (Smart Araneta Coliseum)
12 noon - Opening ceremonies
2 p.m. - UE vs UP
4 p.m. - DLSU vs FEU
MANILA, Philippines - La Salle shoots for back-to-back titles armed to the teeth. The rest of the teams challenge the UAAP kings carrying virtually diminished firepower.
With 10 of its mainstays from the champion team returning and joining forces with four versatile greenhorns, it's a no-brainer why the Green Archers are largely seen as the force to reckon with in the battle for Season 77 supremacy.
DLSU coach Juno Sauler, who only lost LA Revilla from last year's crew, won't let such top billing get into the heads of his wards as they go through the grind in their title-retention drive beginning today at the Smart Araneta Coliseum.
"All the teams are tough. Whatever people think, whatever their opinion is, we don't want to put that into our heads," said Sauler.
"What's more important is what we go through everyday. What happened in the past is past, people have their opinion of what's going to happen in the future. We try to keep our minds off of these opinion," he added.
The hard grind starts at 4 p.m. against Far Eastern U, a team expected to pose major threat despite the departure of top guns Terrence Romeo and RR Garcia, in the main game of the Season 77 opener.
A colorful opening ceremony ushers in the new season at 12 noon after which host University of the East, now handled by coach Derrick Pumaren, and University of the Philippines, the cellar dweller that targets at least three wins this season, set off action at 2 p.m.
Sauler will have at his disposal Jeron Teng, Jason Perkins, Arnold van Opstal, Norbert Torres, Thomas Torres and Arnold Vosotros - key players in La Salle's triumphant campaign last season.
"Siempre, may pressure talaga, yung ibang teams kami ang target (We're aware of the pressure, of us being the target of our rivals) but we'll be prepared for it," said Teng.
The DLSU star noted that the champs are hungrier than ever.
"We're actually starving. Last year, we realized that if we put our work into it, we put our hearts, we can win the championship and realize what we previously thought was just a dream. It's a matter of repeating the hard work," said Teng.
Sauler expects a fierce duel against the Tams.
"They (FEU) have a deep bench. I know they lost two (key) players but what we've seen in the Filoil (preseason tournament) is they're playing more as a team, they're very well coached so it's gonna be a tough game for us," he said.
Mike Tolomia, Mac Belo, Roger Pogoy and Carl Bryan Cruz will spearhead the Tams, who look to play more as a team this year.
"We want a balanced attack from everybody," said FEU coach Nash Racela . "That's one point we emphasized after RR and Terrence left. Mahirap punuan yung 35 points na mawawala so sabi namin it has to be a collective effort. (The two were good for 35 points combined, an output that would be hard to fill in so it's important everybody contributes and make the collective effort)."
Aside from improving on ball movement, the Tams are working on their team defense.
"We told them if you want to go far this year, number one is ball movement. Number two is on team defense. Right now we're very inconsistent. There were games we defend well and then the next game, our defense went spiraling downward," said Racela.
Roi Sumang, Charles Mamie and Chris Javier return for the host Red Warriors, teaming up with eight rookies led by import Moustapha Arafat.
"My team is composed of eight rookies and eight veterans. Of the veterans, half of them didn't play significant minutes last season, so experience-wise, we'll have a problem. But you can expect we'll play hard every game and we'll try our best to make it to the next round," said Pumaren.
UP coach Rey Madrid, whose wards played in Taiwan as part of their buildup, vowed there won't be another winless season. "We will win at least three games, probably four," he said during the Filoil pre-season tournament.