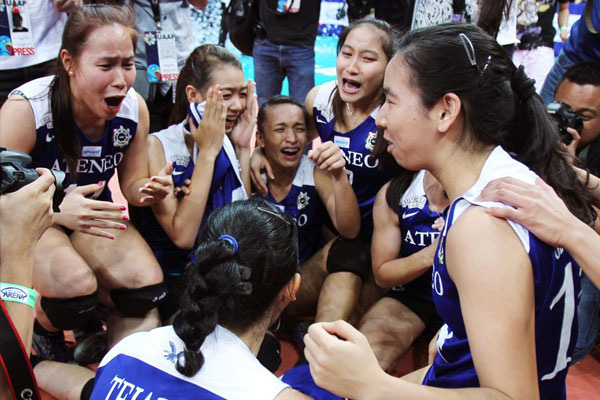 File photo.
MANILA, Philippines - Ateneo de Manila University perfectly defended its crown against arch-rival De La Salle University in a dominant straight set victory, 25-22, 25-17, 25-23, Saturday at the jam-packed Mall of Asia Arena in Pasay City.
The Lady Eagles once again leaned on to their back-to-back MVP Alyssa Valdez, who proved to be unstoppable, to capture their second title.
But it was their setter Jia Morado, who punched in the final touches after a back-to-back drop ball to pen defense of La Salle.
The Katipunan-based squad not just swept their finals series but also did not allow the Lady Spikers to win any set.
It was perfect campaign for the Lady Eagles, who wrote themselves in the history books after remaining undefeated for the whole season in 16 games.
La Salle was the last team to sweep the whole season way back in 2004 but it was different from Ateneo since they were already crowned champions after winning all the 14 games in the elimination.
The series went tough for La Salle, which lost ace player Ara Galang before the finals duel to acl and mcl tear, while Camille Cruz also suffered a knee injury in the latter part of the third set last Wednesday.
Ateneo had an outright finals berth with a thrice-to-beat advantage after sweeping the two-round elimination.