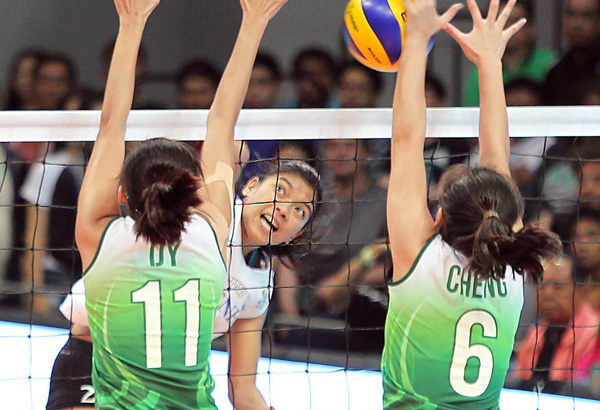 Top Ateneo hitter Alyssa Valdez defies La Salle's Kienna Dy and Desiree Cheng as she rams in a vicious spike during their UAAP women's volley duel at the MOA Arena. JUN MENDOZA
MANILA, Philippines - Defending champion Ateneo Lady Eagles overcame an erratic performance, relying on their strong will power and big fighting heart to rally to a 25-22, 25-27, 16-25, 25-14, 15-9 victory and a sweep of the first round elims of the UAAP Season 77 women's volleyball tournament at a packed Mall of Asia Arena yesterday.
Facing a 1-2 deficit after a miscue-riddled showing in the first three sets, the Lady Eagles unleashed one big fightback in the next two frames to steal the win in the high-intensity match witnessed by 18,489 fans.
Skipper Alyssa Valdez punched in 26 big points while Amy Ahomiro added 13, doing the biggest damage in the deciding fifth, as Ateneo firmed up its status as the top team of the tournament.
Erstwhile unbeaten La Salle (6-1) went down to second with the loss, its third straight to AdMU dating back to their well-attended title series the previous season.
The Lady Eagles looked in disarray especially in the third, where they committed a whopping 15 errors and 41 overall, allowing the Lady Spikers to move one set away from exacting revenge.
But the Ateneans persisted, minimizing their errors to five in the fourth and fifth while coming through with accurate shots to seize control.
"Laging sinasabi ni coach Tai keep trying kasi when you give up, lalong walang mangyayari (Coach Tai Bundit always pushes us to keep trying because if we quit, nothing will come out of it)," said Valdez. "Grabe ang tiwala niya sa amin, kahit mag-error, sinasabi lang heart strong, talagang nabubuhayan kami ng loob (He has strong faith in us, even if we err, he just tells us, heart strong and it lifts us)," said Valdez.
In the first game, National U notched its second straight win under new coach Roger Gorayeb, beating Adamson, 25-17, 5-16, 22-25, 25-19, for a 4-3 card.
Jaja Santiago once more put up a dominating show with 26 points while Myla Pablo added 15 as the Lady Bulldogs vaulted to third spot at the halfway mark.
"They're slowly getting what I was trying to implement. Just some more push and correcting minor flaws," said Gorayeb in Filipino.
The Lady Falcons, who were led by Amanda Villanueva's 14 and Mylene Paat's 13, suffered their second consecutive loss for 3-4.
In men's play, Ateneo got back at last year's finals tormentor NU, 20-25, 25-21, 18-25, 25-19, 15-10, to spoil the Bulldogs' bid for a first round sweep.
Mack Espeso scored 26 points as the Blue Eagles picked up their fifth win in seven games, tying UST for second spot behind holder NU's 6-1.