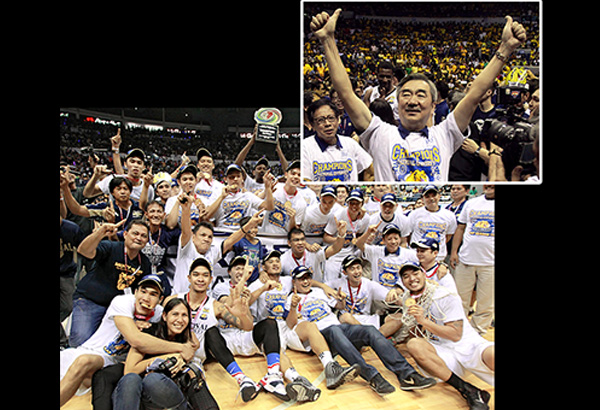 VICTORY AT LAST: Members and supporters of the triumphant National U Bulldogs, led by team owner Hans Sy (inset), savor the sweet taste of victory after ending a 60-year chase for the UAAP championship. JUN MENDOZA
MANILA, Philippines - Finally, the National U Bulldogs were no longer in the doghouse of history.
Tenacious, relentless all season long, the Bulldogs, in fact, cornered history itself and gnawed a huge piece of it to become the newly minted UAAP Season 77 champions through a 75-59 romp over the Far Eastern U Tams in sudden death before a new record crowd at the Smart Araneta Coliseum last night.
It was a victory 60 years in the making and six years in the scheme of things for the school's new owners as the Bulldogs emerged from the league's cellar dweller to become the season's best.
History simply succumbed to the Bulldogs' unforgiving chase this year. It was their first title since 1954, snapping a 60-year title drought, the longest dry spell in a team. They also became the first fourth seed to capture the crown in the Final Four era.
And they did it in front of 25,138 fans, a new mark in hoops at the Big Dome.
"I'm so happy to be part of history," said NU coach Eric Altamirano after his wards brought the elusive jewel back to their campus in Jhocson for the first time since 1954.
Pouncing on the trademark defense that had served them well in four previous do-or-die situations in the playoffs, the Bulldogs held the Tams to 30.77 percent shooting clip (24-of-78) in the deciding game.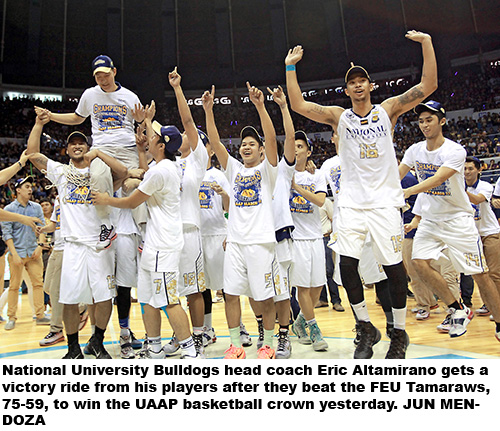 "We lost a lot of players from last year, not just Ray Ray Parks and Sean Mbe but also Denice Villamor, Robin Rono and Joeff Javillonar so we have to find a way to win. In the summer, we really tried to look for identity and we found that on defense. It's kind of unique we showed our teamwork on defense," said Altamirano.
Their defense fuelling their offense, the Bulldogs seized the momentum and opened a 49-35 tear in the third. They never let go from there as Finals MVP Alfred Aroga, Gelo Alolino and Glen Khobuntin hit big shots after big shots, with young guns Rev Diputado and Jayj Alejandro also contributing big-time.
"When I talked to the team yesterday, I told them there was a time in the summer when we played a PBA D-League team and won by a buzzer-beater. I told them there's something special about this team. They never give up, they refuse to lose and I think that's the character of this team, there's a sense of unity and collective spirit on them," said Altamirano.
Aroga, playing in his first season, banged in 24 points and grabbed 18 rebounds including eight off the offensive glass as FEU couldn't find an antidote against him.
"This is Alfred's best offensive game. All throughout season he's bailed us out on defense, what a time for him to step up big time for us offensively," said Altamirano of the 6-foot-7 Aroga.
"We were overpowered by Aroga. We don't have a person who could match up against him," said FEU coach Nash Racela.
Alolino added 12 markers while Khobuntin made his swan song with 10 points, the same tally as Alejandro.
Altamirano steered NU to the Promised Land on his fifth season. They reached as far as the Final Four in Seasons 75 and 76.
Mike Tolomia (23) and Mac Belo (17) paced the Tams, who failed to break a nine-year title drought.
The scores
NU 75 - Aroga 24, Alolino 12, Alejandro 10, Khobuntin 10, Neypes 8, Rosario 6, Diputado 5, Betayene 0, Javelona 0, Perez 0, Salim 0
FEU 59 - Tolomia 23, Belo 17, Dennison 6, Cruz 4, Jose 4, Inigo 3, Hargrove 2, Tamsi 0, Ru. Escoto 0, Pogoy 0, Ugsang 0, Ri. Escoto 0.
Quarterscores: 20-18, 30-26, 55-44, 75-59