MANILA, Philippines -- The Ateneo Blue Eagles management has suspended erring player John Apacible for his outburst during a drunk driving incident caught on video on early Sunday morning along Timog in Quezon City a few hours after the team's big 87-72 win over the Adamson Falcons in the UAAP men's basketball.
Apacible was suspended for the rest of the second round according to team manager Epok Quimpo as per The Guidon, the official publication of the Ateneo de Manila University.
A day after the incident, Apacible apologized to the school officials, his teammates and all parties concerned which was made known by Ateneo's Athletics Office Director Emmanuel Fernandez in a letter that made rounds on social media.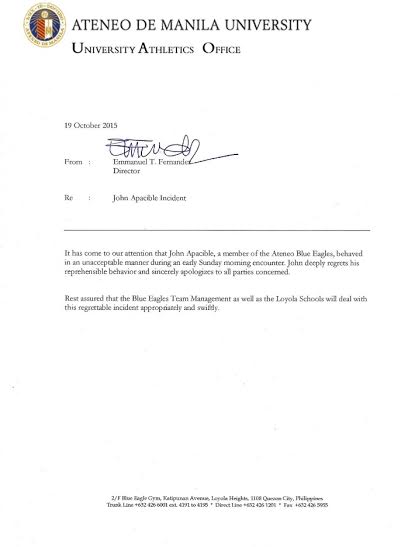 The 19-year old second string forward has earned the "Mr. Perfect" tag in the first round after he was the only UAAP player to have not missed a shot going 11-of-11 from the field in Ateneo's six games. However, his imperfections as a person showed during the incident that was caught on video and landed on Top Gear Magazine's official page on Facebook.
In the more than three-minute video, a drunk Apacible was flashing a vanity "Councilor" Plate and shouting expletives while challenging the one who was behind the video to a fist fight in what appeared to be a case of road rage.
ALCOHOL WILL MAKE YOU A CELEBRITY

In the Philippines, if you have a protocol plate, you're allowed to drive drunk and do this for all to see.From Yan Bote: "Along Timog Avenue in Quezon City. Plate number ACA-7111. Lasing na lasing yung driver tapos nanggulpi ng driver ng delivery van at nanghampas ng dumadaang kotse tapos nanggigitgit ng mga sasakyan. Di man lang hinuli ng mga pulis. Hinayaan pa magdrive kahit lasing at may mga nagrereklamo." Posted by TOP GEAR PHILIPPINES on Sunday, October 18, 2015
What irked netizens was how Apacible was able to drive away without being apprehended by the attending policemen despite the passing of Anti-Drunk and Drugged Driving law earlier this year.