Back to Top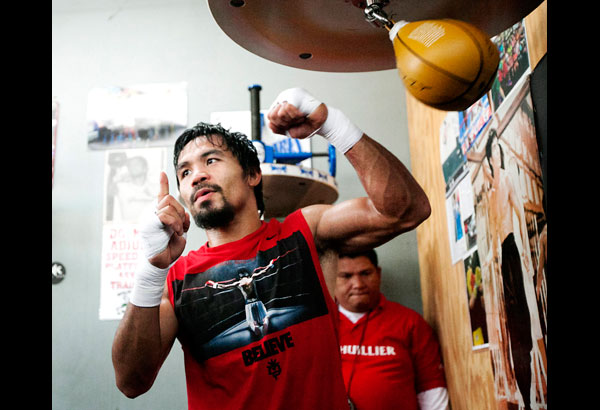 Pacman tells Bradley: I'm not old
MANILA, Philippines - Manny Pacquiao broke sweat in General Santos City yesterday morning, almost two months before his rematch with Timothy Bradley in Las Vegas.
Pacquiao trooped to a local track stadium at around 6 a.m. and did his routine exercises. He shadowboxed in front of his team members.
Then he faced the GMA-7 camera and and reacted to Bradley's recent statements that Pacquiao may be too told to beat him.
"Nire-review ko lahat ng mga sinabi niya na matanda na tayo (I'm reviewing his statements saying I'm old)," said Pacquiao.
Although the Filipino icon turned 35 last Dec. 17, Bradley referred to him as a 36-year-old.
"Manny's what 36 now? Ain't no 36-year-old whipping my behind," the 30-year-old Bradley told the Boston Herald.
"No way he's going to outpunch me, outwork me. Only way he's going to beat me is knock me out because as long as I got life in me I'll keep on punching," Bradley added.
Pacquiao said he's taking it as a challenge to beat a younger opponent like Bradley or Brandon Rios, whom he outclassed last November in Macau.
During the recent press tour for the April 12 rematch, Pacquiao also vowed to be as aggressive as before. He also admitted being "too nice" to Bradley the last time out.
"It's a challenge to me na ipakita ulit yung killer instinct and aggressiveness," said Pacquiao, who will train a couple of weeks in General Santos City.
His trainer, Freddie Roach, will arrive on the last week of February and is hoping that by the first week of March they'll be at the Wild Card Gym in Los Angeles.
Pacquiao is the only boxer in history to win world titles in eight different weight classes, and on his way to the top he ran over bigger opponents like Oscar dela Hoya, Antonio Margarito and Miguel Cotto.
But he's never stopped any opponent since the Cotto fight more than four years ago.
Despite an impressive win over Rios, Bradley thinks Pacquiao is getting old.
Bradley may just end up eating his own words.
Latest
Trending
Recommended