Back to Top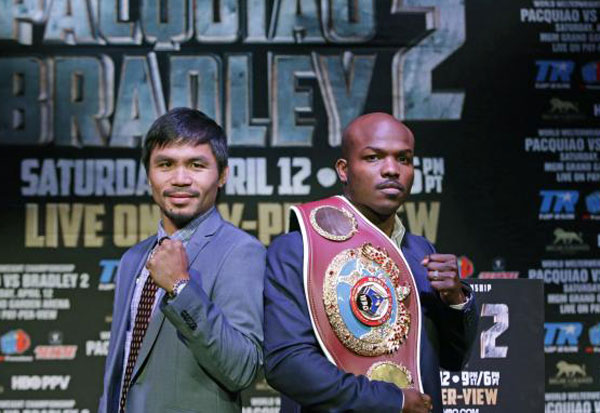 Manny Pacquiao is reportedly headed for a rematch with Timothy Bradley this April. File photo
Report: Pacquiao picks Bradley over Provodnikov as next foe
Dino Maragay
(The Philippine Star) - January 6, 2014 - 12:54pm
MANILA, Philippines – Manny Pacquiao is leading towards a rematch with Timothy Bradley for his scheduled April fight, a boxing website reported Monday.
Ben Thompson of fighthype.com quoted a source "with knowledge of Pacquiao's preference" as saying that the Filipino icon has chosen Bradley over Ruslan Provodnikov, the Russian world champion who's also being considered for Pacquiao's next fight.
The source said Bradley's history with Pacquiao makes him the most logical choice for the April 12 bout to be staged at the MGM Grand in Las Vegas.
"They're going with Tim. Neither guy [Bradley or Provodnikov] are a big draw, but with Bradley, they can at least hang their hat on the fact that there's history between the two fighters. The controversy of their first fight makes it a lot easier to sell than a fight with the Russian kid," the source explained.
Bradley defeated Pacquiao in June 2012 via a controversial split decision, a bout many felt should've gone to the fighting congressman. The undefeated American then went on to win two more fights against Provodnikov and Pacquiao's archrival Juan Manuel Marquez.
Marquez, for his part, is out of the picture after repeatedly insisting he no longer wants any part of Pacquiao, whom he knocked out in devastating fashion in their fifth fight.
Pacquiao, according to the source, can redeem that loss by knocking out Bradley and reclaiming the WBO welterweight title.
"Manny can make people forget about the KO to Marquez if he himself can KO Bradley, who just beat Marquez," he said, adding that a win over Bradley can pave the way for a showdown with Floyd Mayweather Jr.
"And don't forget the [Floyd] Mayweather factor. With Tim still being undefeated, an impressive win over him will go a long way in restoring Manny's claim to Mayweather's pound-for-pound throne," the source further said.
Latest
Trending
Recommended