A 'fan sign' interview with Maine Mendoza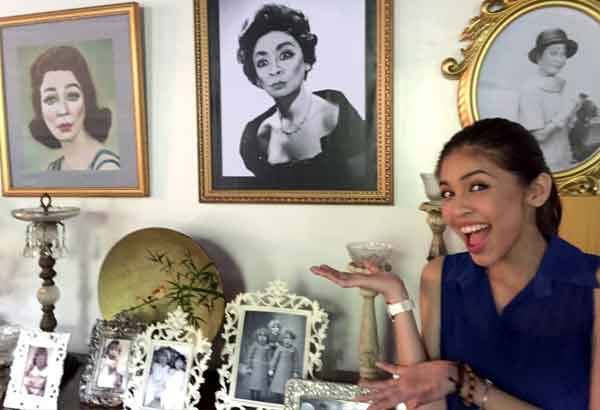 Will I talk?
Maine Mendoza is doing her first-ever interview, three months after she broke into television initially as Yaya Dub, the nanny of Lola Nidora (Wally Bayola), and now as the love interest of Alden Richards in the Eat, Bulaga! kalyeserye which has been keeping Filipinos around the world glued to their TV sets Monday thru Saturday.
We are here at a big house at the corner of Broadway and 9th Sts. in New Manila, Quezon City which, just an hour earlier, served as Lola Nidora's mansion where Alden and Maine (for the meantime not as Yaya Dub) were having their lunch unperturbed by nobody. The AlDub Nationals know what happened, with Maine saying "This must be love!" not just once but twice, much to the rejoicing of the kalyeserye's avid followers who set a new Twitter record of more than 23 million tweets (as of this writing, still counting!), breaking the previous Saturday's 12M-plus mark. After all, Sept. 26 was declared National Pabebe Wave Day.
It's actually The STAR's second exclusive interview with Maine. The first was late in July when Maine was only starting in Bulaga, recruited because of her popularity as the Queen of Dubsmash, barely a month before the kalyeserye was launched by accident…unscripted, uncharted, going on and on and on with AlDub co-stars also including Jose Manalo (Tinidora) and Paolo Ballesteros (Tidora) sustaining the viewers' interest with their hilarious antics.
This Saturday, facing us as Maine Mendoza and not as Yaya Dub, the country's phenomenal overnight star, is communicating to us through fan signs…on camera, that is (for this coming Saturday's edition of CelebriTV, Oct. 3, 4 p.m. on GMA).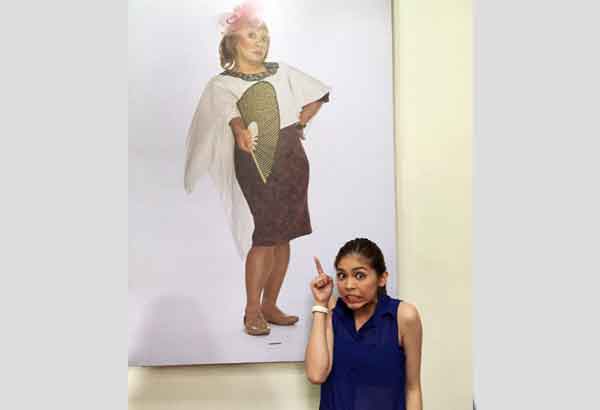 "Ang hirap ng hindi nagsasalita," says Maine, who turned 20 last March (Alden is 22), before the cameras start rolling. But Maine needs no words. Her flexible face can, like a picture, relay a thousand words.
For the TV interview, however, Maine is in character, answering our questions through fan signs. But for The STAR, yes, she talks…and talks!
Like Alden, she keeps a hectic schedule. Alden goes home to Laguna every day and Maine to Sta. Maria, Bulacan, with her family (said to own several businesses, among them four gasoline stations).
Does she still sleep?
"I try to get as much sleep as I can," assures the La Salle St. Benilde Culinary Arts graduate (who did her on-the-job training at a high-end restaurant in New York).
Again like that of Alden (who didn't become as popular during  his three years as a Kapuso…until he caught the world's attention with the kalyeserye), Maine's life drastically changed overnight, with her privacy all but gone. Through it all, she has remained level-headed, well-grounded, obliging requests for photo-ops/selfies with a smile.
"That's what my parents have been constantly reminding me," adds Maine, "huwag lalaki ang ulo." Same thing Alden's widower dad has been telling him. Are her parents as strict as Lola Nidora? "Mas strict si Lola," laughs Maine.
On their date in last Saturday's episode, Maine choked a bit and Alden quickly gave her a glass of water, holding her hands as he assisted her.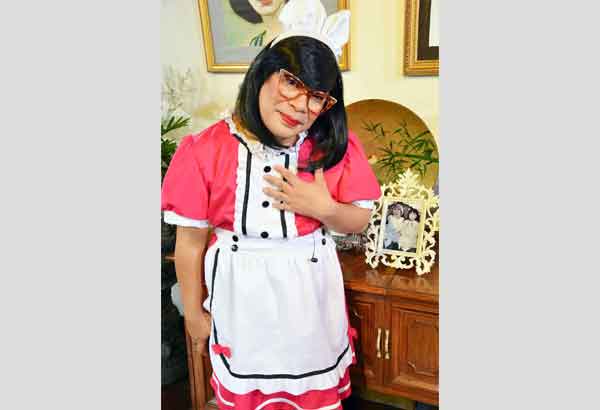 Wally Bayola as Rhianna, his new character in the Eat, Bulaga! kalyeserye, as the mayordoma of the mansion where Alden Richards and Maine Mendoza had their date in last Saturday's episode
"Kilig siempre pero kinabahan," admits Maine who has junked her initial dream to be a flight attendant, "Mas gusto ko pong mag-artista."
Aside from Alden's dimples, Maine says that what she likes about Alden is his eyes (which is the same thing Alden said he liked about Maine). "And his being a super gentleman."
Asked if she has a boyfriend, Maine says, "In high school." Now she's fancy-free like Alden.
So is there a possibility of her and Alden becoming sweethearts in real life? May pag-asa ba si Alden kung manligaw sa kanya?
"Mayroon po!" Then she laughs and laughs.
What conditions, if any, will she impose on Alden (the way Lola Nidora makes it hard for Alden to woo Yaya Dub)?
"All he has to do is ask for my parents' permission."
(Postscript: Setting of Alden and Maine's date was supposed to be the Vera-Perez's residence at the sprawling Sampaguita Events Place, just like one of their previous dates, so a get-together for Philippine STAR columnist Danny Dolor was transferred to the events place's second floor. But some technical problem cropped up so the set was moved somewhere else. Back to the original plan for Danny's affair. As a bow to the National Pabebe Wave Day celebration, Danny and his guests posed for a pabebe "family picture.")
A 'pabebe-wave' gathering of friends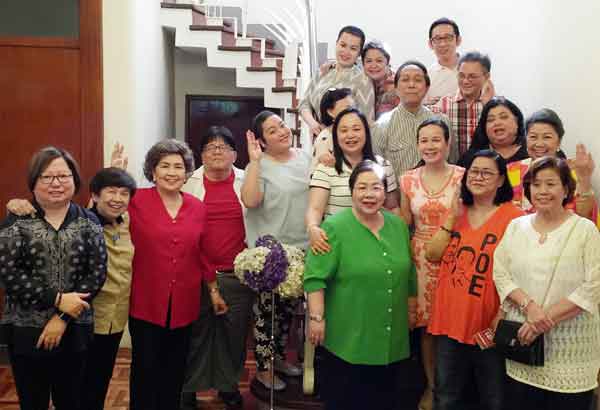 A get-together for Danny Dolor takes on an 'AlDub turn' as the friends gamely pose for a 'family picture' making the pababe wave. The get-together, coinciding with the so-called National Pabebe Wave Day, was held at the Vera-Perez residence in Quezon City where the date of Alden Richards and Maine Mendoza was supposed to be held, until some technical problem cropped up. Those in the picture are (from left): Girlie Rodis, Baby K. Jimenez, Susan Roces, Ronald Constantino, Jaypee Victoriano, Shirley Kuan, Pat-P Daza, Anes Victoriano, Lilibeth Vera Perez-Nakpil, Danny, Dolor Guevarra, Sen. Grace Poe, Ricky Lo, Lawrence Tan, Lolit Solis, June Torrejon-Rufino, Marichu 'Manay Ichu' Maceda and Mother Lily.
(E-mail reactions at entphilstar@yahoo.com. You may also send your questions to askrickylo@gmail.com. For more updates, photos and videos visit www.philstar.com/funfare or follow me on www.twitter/therealrickylo.)