Pinoys in Guam also AlDub crazy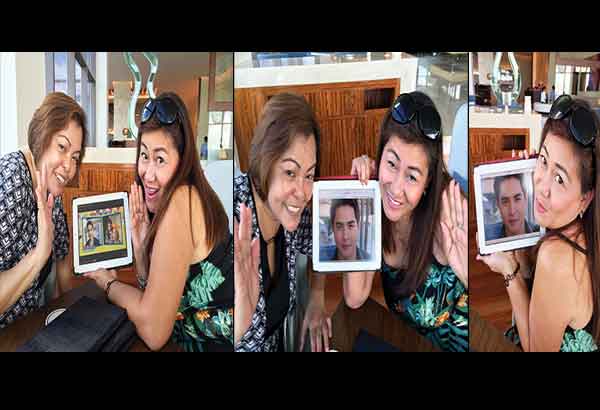 GUAM — Like millions of Filipinos around the world, those on this tiny island (a mere dot on the map) in the middle of the Pacific Ocean are also crazy about AlDub.
Two of them are Gina Tabonares-Reilly, formerly a reporter of The Philippines STAR and now married to retired US Marine Bob Reilly; and Teri Flores, marketing director of Tango Theatres TanHoldings Company.
Over merienda at the coffee shop of the newly-opened Dusit Thani Resort Hotel, they unabashedly showed how gigil they were about the Alden Richards-Yaya Dub/Maine Mendoza love team, racing against each other in showing me video grabs of the multi-million-tweet Eat, Bulaga! kalyeserye on their celfones and iPads.
"I saw on Yahoo.com that AlDub was trending," related Teri. "Since I am in marketing, I look for studies like that. I was curious. So I checked YouTube at binalikan ko from Day One. I was instantly hooked. I've been following it since then."
"My friends in Manila have been posting AlDub photos on their celfones and I asked them about it," said Gina. "They told me, 'Watch it. Maaliw ka.' So I did. Bigla akong naging avid AlDub follower."
I took their picture with my celfone camera and…surprise, surprise!...they willingly posed with an image of Alden from an AlDub episode, doing the AlDub pabebe wave and Lola Nidora's pabebe tongue, and then kissing Alden's image.
They are up-to-date with the free-flowing AlDub romance, gasping at the possibility of Alden and Yaya Dub finally meeting in person and not just via split-screen.
They knew that Alden and Yaya Dub's  two scheduled meetings were thwarted first by a plywood (named "Victor Plywood" by Bulaga host Joey de Leon), and the second (touted to be their first date) by a long table at which Alden and Yaya Dub sat on opposite ends, cut short by the frantic ringing of an alarm clock and Lola Nidora's urgent demand for Yaya Dub to bring to her her "chiwibol" (chewable) medicine.
"It's so funny how every little thing associated with the kalyeserye becomes a character," laughed Gina who, like Teri, even knew that the three stumbling blocks to the love team's meeting have issued "official statements" (authors not identified) in an attempt to exonerate themselves.
• From "Victor Plywood":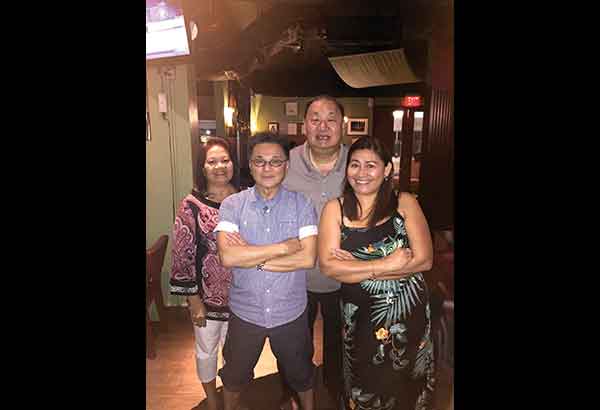 Gina and your Funfarer during a dinner at a Japanese restaurant hosted by Emelio Uy (with his assistant Annie Payne, leftmost)
Dear AlDub Nation: Sorry po sa nangyari kanina. Hindi ko po talaga kagustuhan na humadlang sa gitna ni Alden at ni Yaya Dub. Ako po ay isang props lamang na naghahangad na sumikat pero hindi sa masamang paraan, at wala po akong gustong masaktan.
Hindi ko po nabasa ang script. Ginamit lang po ako ni Lola Nidora. Sabi po niya ay pipintahan nila ako at gagawing background pag nagkita ang AlDub. Hindi ko sinasadya na humadlang sa kanila. I was USED and ABUSED kasi baguhan lang ako sa industriya. Humihingi po ako ng paumanhin at patawad sa mga nasaktan. — Plywood sa Gitna ng ALDUB.
• From Long Table: ALDUB Nation sorry po talaga. Hindi ko akalain na matapos si Plywood, ako naman ang ginamit. Biktima lang po ako. Pumasok kami sa EB Broadway Studio para magtrabaho lamang. Excited kami dahil nagkataon na first date pa talaga ng AlDub. First day of work namin. Sabi ng jmga staff na ako raw ang magiging lamesa sa lunch room ng mga hosts. Nilagay na nila ako room; actually, kumain na nga si Ryzza at Pia at gamit ako. Tapos 'yung pinsan kong si small table, siya naman ang lamesa sa AlDub pero sa di inaasahang pangyayari may bumitbit sa akin. 'Di ko mamukhaan, naka-shades sila, eh. Akala ko din po na 'yung pinsan kong si small table ang gagamitin sa date. Nakakadismaya na ako ang nagtatrabaho lamang ay nagagamit sa mga ikinagagalit ng AlDub fans. Sorry po ulit. — Long Table.
• From Chiwibol and Alarm Clock: Dear AlDub Nation. Sorry for what we have done. Si Lola Nidora ang may gawa.  Bago mag-umpisa ang show nilagay kami sa bag ni Yaya Dub. Si Yaya isa ring makakalimutin at nakalimutan kami ibigay kay Lola. Parang awa ninyo na. 'Wag ninyo kami i-bash ni brother alarm clock. Please, si plywood at straw ay nasa rehab na. P.S. Congrats AlDub Nation. You are part of the history!!! — Love, Chiwibol at Alarm Clock
"Bow ako sa writers ng AlDub," said Teri. "They don't run out of exciting ideas. Very creative."
"I'm amazed by how they come up with new ideas every day," said Gina, taking exception of Wally Bayola (as Lola Nidora), Jose Manalo (as Tinidora) and Paolo Ballesteros (as Tidora) as a big help in sustaining the interest and curiosity of the followers until such time (before the year ends?) when Alden and Yaya Dub will end up in each other's arms. "Tuwang-tuwa ako sa mga bodyguards ni Wally (the three Rogelios), Jose (the three Cuandos) and Paolo (the three Bernardos)."
Asked what they think makes AlDub click, Gina said, "I like the Cinderella-like touch, a nanny  fascinated with a prince-like guy. It's not just a comedy, it shows Filipino values. By the way, aliw ako sa kanilang adlibs, you know, 'yung sinasabi nilang asawa ni…'Yung mga ganoon."
Teri agreed. "My children didn't grow up in the Philippines so they are not familiar with Filipino values. AlDub promotes Filipino values. When they ask, 'Mommy, what's that?' I tell my son, who is in the military, 'That's the Filipino tradition of courtship.' I like Maine because she's an epitome of a Filipina…masunurin at marespeto sa Lola. Konti na lang ang generation na katulad niya. I agree with Lola Nidora that things should not be rushed and to wait for the right time, sa tamang panahon."
"Maine makes fun of herself and she still looks good," added Gina. "She's really pretty. The characters represent members of the family so it's not hard to identify with them. I love Jose when she dances to the tune of Mambo No. 5. Nakakatuwa ang kalandian n'ya."
After Alden and Yaya Dub's twice "so far yet so near/almost there" meetings two Saturdays ago, Teri and Gina are looking forward to what surprises the kalyeserye will spring this Saturday. The "first-date" episode last week earned (so far) more than 12 million tweets.
"I think they will finally come face to face and perhaps kiss," Gina said.
"And I'm sure this Saturday's episode will surpass the 12M-tweet mark," countered Teri."
After the coffee break, Gina and I (Teri did not join us) proceeded to a Japanese restaurant where Emelio Uy, the well-loved long-time Guam resident who has a ready helping hand for his kababayan, hosted a dinner. And what do you know? Emelio is also an AlDub follower!
When he goes home from managing his National Office Supply store, he relaxes by watching AlDub.
"It's an effective stress-reliever," swore Emelio.
People from all walks of society wherever in the world, there are Filipinos who  are AlDub followers. Indeed, AlDub is a great equalizer.
(E-mail reactions at entphilstar@yahoo.com.)