How Pia keeps that Miss U 'look'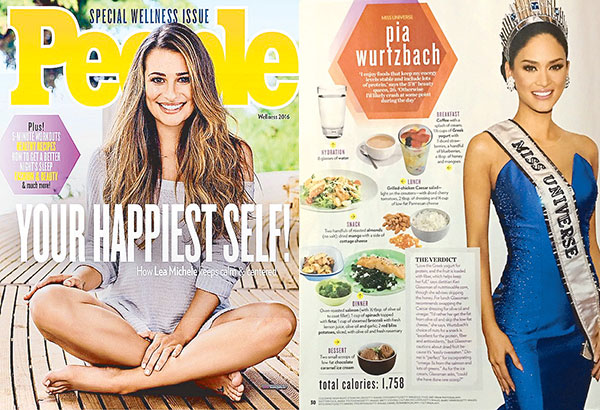 Curtain-raisers:
The owners of a chain of supermarkets in California were so disappointed with the attitude (bad behavior) of a popular loveteam that they swear never to enlist them again for another show — "Not even if they are the only existing loveteam on earth," they said. You see, during a show in California, the loveteam was contacted for a meet-and-greet in which all they were asked to do was wave (and smile!) at the mostly-Filipino crowd, pose for photographs and sign autographs. Did they cooperate? Nope!
What they did was pretend to be sick and/or not in the mood, refuse to sign autographs or pose for photographs or shake hands, and hide their faces as they rushed out of the venue, leaving with their talent fee intact — $6,000 in cold cash!
"Never again!!!" fumed the supermarket owners. "Didn't they know that just seeing them in person, shaking their hands, getting their autographs and posing in photos with them were the ultimate joy of Filipinos abroad? Na 'yon ang tanging kaligayahan ng mga kababayan nila sa ibang bansa? Hintayin nating malaos sila at wala nang papansin sa kanila maski pa mag-tumbling-tumbling sila!"
Oops! That's should be a big eye-opener for the showbiz swell-heads who wrongly believe that stardom is forever.
Unless the singer-son of a popular singer returned the $25,000 he owed a California-based businessman, he might have to see his day in court. The money was supposed to be intended for the needy but not a single dollar went to them. The lender (rather, his lawyer) has been reminding and reminding the singer but he only turns a deaf ear. The businessman's lawyer has already sent the singer an ultimatum…or else!
Don't look now, but a songstress with a legal background is said to be short-listed as chairman of the MTRCB (Movie and Television Review and Classification Board), the position currently held by Toto Villareal. She is recommended by well-placed backers.
* * *
As we all know by now, outgoing Miss Universe Pia Wurtzbach doesn't follow her own reminder for social-media users — you know, Think before you click! She complained that some netizens bash her for religiously posting her "romances" but rarely updating her followers on her anti-AIDS advocacy. She has nobody to blame but herself because that's exactly what she has been posting — the guys she's romantically linked with, the latest being car racer Marlon Stockinger.
Anyway, I came upon an article about Pia (and other celebrities) in the "Special Wellness Issue" of People magazine at the clinic of Dr. Pia and Chico Achacoso, the orthodontists of stars (among them Susan Roces).
The full write-up (reprinted from People mag):
"I enjoy foods that keep my energy levels stable and include lots of protein," Pia is quoted in the article. "Otherwise, I'd likely crash at some point during the day."
• Breakfast: Coffee with a splash of cream; 1 and ½ cups of Greek yogurt with three diced blue berries, a tablespoon of honey and mangoes.
• Lunch: Grilled-chicken Caesar salad, light on the croutons, with diced cherry tomatoes, two tablespoons of dressing and 1/3 cup of low-fat Parmesan cheese.
• Dinner: Oven-roasted salmon (with ½ tablespoon of olive oil to coat fillet); one cup of spinach topped with feta; one cup of steamed broccoli with fresh lemon juice, olive oil and garlic; and two red bliss potatoes, sliced, with olive oil and fresh rosemary.
• Dessert: Two small scoops of low-fat chocolate caramel ice cream.
• Snack: Two handfuls of roasted almonds (no salt), dried mango with a side of cottage cheese.
• Hydration: Eight glasses of water (per day).
Total calories: 1,758.
The verdict?
"Love the yogurt for protein, and the fruit is loaded with fiber, which helps keep her full," says dietitian Keri Glassman of nutritiouslife.com, though she advises skipping the honey. For lunch, Glassman recommends swapping the Caesar dressing for olive oil and vinegar. "I'd rather her get the fat from olive oil and skip the low-fat cheese," she says.
Wurtzbach's choice of nuts for a snack is "excellent for the protein, fiber and anti-oxidants," but Glassman cautions about dried fruit because it's "easily over-eaten."
Dinner is "perfect" for incorporating "omega 3s from the salmon and lots of greens." As for the ice cream, Glassman asks, "could she have done one scoop?"
Anyway, Pia must be heeding Glassman's pieces of advice as she braces for the Miss Universe pageant in Manila on Jan. 30, 2017, in which she will relinquish her crown to the new queen.
(E-mail reactions at entphilstar@yahoo.com. You may also send your questions to askrickylo@gmail.com. For more updates, photos and videos visit www.philstar.com/funfare or follow me on www.twitter/therealrickylo.)