Paul Jake & Kaye swap 'I do's' in quiet wedding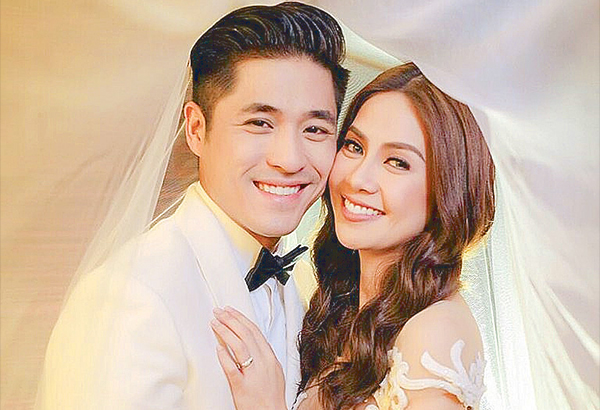 The groom is Chinese (from a family that runs a business in Cebu City, including rubbing alcohol) and the bride is pure Filipino. Did any "cultural difference" pose a hindrance to the marriage solemnized at the San Pedro Calungsod Chapel in Cebu last Friday, Dec. 9?
"No such problem," somebody close to the groom's family told Funfare.
Radiant in a Francis Libiran gown, Kaye Abad (make-up by Denise Go and couple's hair styled by Jing Monis) was suppressing quiet tears while walking down the aisle; while Paul Jake Castillo, dapper in an Inno Sotto suit, was flashing a big smile as he calmly (at least, that was how he appeared to be) waited for his bride near the altar.
"Paul Jake's mother is a Filipina," added the Castillo family friend, "and besides, Paul Jake grew up in both Chinese and Filipino customs and traditions." That is, unlike in strict Chinese families, the parents usually practice the Chinese tradition of introducing their children to the children of another Chinese family — they call it kai siao (meaning introduction) after which the courtship would start.
Paul Jake and Kaye had been going steady for two years before he proposed to her on her birthday last May. Unlike showbiz couples, they were low-key, opting to keep their romance under control and allowing the media only a little peep into it. In fact, until their wedding last Friday, Paul Jake and Kaye were mum on details about what may be touted as The Wedding of the Year-end.
The event was a mixed of "a few tears and a lot of laughter," a celebration which was possible only if the guests were composed of, according to the Funfare source, "everybody who knew everybody." The wedding was kept so quiet, confined to the bride and groom's family members and close friends, that it was almost a "secret."
The brief "crying scene" on the aisle was replaced by scenes of fun and laughter during the reception at the Radisson Blu Hotel. Paul Jake didn't walk into the venue, instead he danced along the way while his friends cheered him right on from both sides of the red carpet.
During their first dance as husband and wife, Kaye refused to let go of the bag she was holding, joking that it contained Paul Jake's "wealth," resisting the effort of the guests to take it away from her as laughter filled the ballroom.
"They are the happiest couple I've ever seen," noted Jason Abalos, one of the star guests (also including John Prats and his wife Isabel Oli and his sister Camille Prats.)
Kaye danced first with her father and then with Paul Jake's father, before she danced again with Paul Jake.
A guest said that when Paul Jake kissed Kaye after they exchanged "I do's," he did it with so intensely and so passionately that it was as if he didn't want to let go of Kaye.
"It was the longest after kiss I've ever witnessed," said the guest.
Will Paul Jake let Kaye continue working as soon as they settle down to start their own family?
"Oh yes," Paul Jake told Funfare two weeks before the wedding. "That's the thing she loves to do, so why will I stop her?"
Asked to clear a rumor that Kaye must be "expecting" (thus the "hasty," quiet wedding), Paul Jake said, "Not true. We will start having a baby after the wedding."
As they did with their wedding, Mr. and Mrs. Paul Jake Castillo are mum on where their honeymoon will be.
Yesterday, the couple's families were at the Bohol Beach Club to enjoy quiet time together.
(Note: The pictures on this page need no caption. They speak a thousand words.)
(E-mail reactions at entphilstar@yahoo.com. You may also send your questions to askrickylo@gmail.com. For more updates, photos and videos visit www.philstar.com/funfare or follow me on www.twitter/therealrickylo.) -  Photos courtesy of NICE PHOTOGRAPHY