A chance reunion in L.A.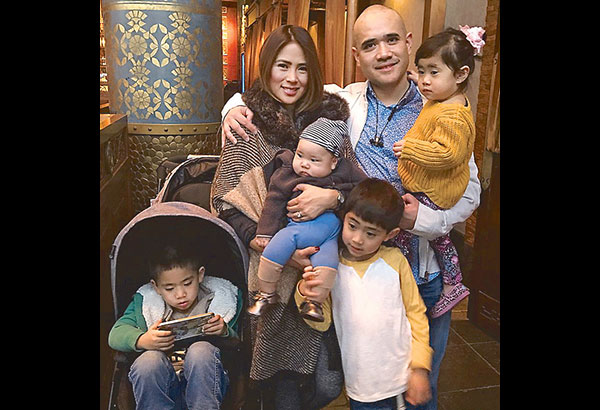 LOS ANGELES, California — Every time I set foot in L.A., usually for Hollywood junkets, I make time for friends between interviews with the stars. Short but sweet meetings usually, at restaurants or cafés near the hotels where invited journalists from around the world are billeted.
Three weeks ago, I was invited to cover the launch of Acai (pronounced a-sha-yi), the food supplement created by the husband-wife team of Elton and Cathy Salimbangon which is being endorsed by Tweetie de Leon-Gonzalez and Regine Tolentino. L.A. was the second stop of the three-city launch which kicked off in San Francisco and wound up in Las Vegas.
Touted as a Dance Diva, Regine proved to be a perfect Acai endorser who survived the rigorous schedule with her sense of humor intact, her energy boundless and her disposition as bright as the holiday lights that turned the City of Angels into a wonderland as dusk set in.
"Thanks to Acai," said Regine, true to form. "I've been taking it for two years and I haven't been sick."
The launch would start with Regine leading a zumba session with the crowd, followed by a press conference and, the next day, an Acai-tasting at a supermarket which happened to be the Island Pacific in Panorama City, one of the 25 outlets owned and managed by Niño Lim, husband of Krista Ranillo.
Our group (STAR's L.A. Correspondent Raymond Lo, his cousin Girlie and celebrity immigration lawyer Jemela Nettles) expected to see Niño and Krista but they happened to be somewhere else…in Century City hosting a lunch at the posh Rock Sugar restaurant.
"Come," Niño and Krista said, "join us."
How surprised we were to see Allen Dizon and his manager, indie producer Dennis Evangelista, there! They just came from India where they attended the Kolkata International Film Festival (KIFF) in which Allen's Cinemalaya starrer Lando at Bugoy (directed by Vic Acedillo Jr.) was shown. They were in L.A. for Allen to receive a Gawad Amerika award as Most Outstanding Filipino in The Field of Acting.
Small world, 'no! Allen and Krista worked together in two films Paupahan (with Gloria Romero and German Moreno) and Marino (with Ara Mina and Bangs Garcia), with Krista so credible in her role that she was mistaken for a prostitute during a shoot in Thailand.
"It was so funny," recalled Krista who opted to retire from showbiz when she got married and devoted her time to being full-time wife and mother to their four children — Nate, five years old; Nolan, four; Natalie, two; and Archibald, three months old whom Krista was breastfeeding during the reunion. It was a wise decision. "Being a mom is my best role ever," added Krista, "better than all of the roles I've played in movies."
In a previous interview with The STAR, Niño said that he wanted to have six children…so two more coming (Krista has been giving birth almost every year)?
"Nakailan na nga tayo?" Niño asked Krista in jest. "The more the merrier."
Also present were Krista's parents, Mat Ranillo III (who has retained his matinee-idol looks) and Lynda Tupaz (who looked as beautiful as ever).
Last seen in the 2009 Kapamilya soap Katorse as the father of Enchong Dee, Mat (or Archie, from his real first name Archibald) broke a right rib when he fell into a manhole near the Senate, spending more than P150,000 for treatment at the Asian Hospital, frustrated that the government didn't take responsibility and simply patted Mat's back with a hasty apology.
"That's why I left for the US for further treatment," said Mat who continues to suffer recurring pain. "I didn't finish the ABS-CBN soap."
Mat is still in demand as Kristo, the same role he's identified with after playing it during the Lenten Season year after year, starting when he was 18 and a relative unknown cast with such big stars as Boots Anson-Roa (the perennial Virgin Mary after Gloria Romero) and Marianne dela Riva (now also based in the US) one time as Mary Magdalene.
"Last Lent," shared Mat, "I played Christ again after many years. "Vivian Foz played Virgin Mary. Joji Isla was also in the cast."
The chance reunion was capped with everyone swapping hugs and kisses, looking forward to another (chance?) reunion, as the song Have Yourself a Merry Little Christmas aptly puts it, if the fates allow.
(E-mail reactions at entphilstar@yahoo.com. You may also send your questions to askrickylo@gmail.com. For more updates, photos and videos visit www.philstar.com/funfare or follow me on www.twitter/therealrickylo.) - Photos by RICKY LO