Ruffa reveals more in what she's trying to hide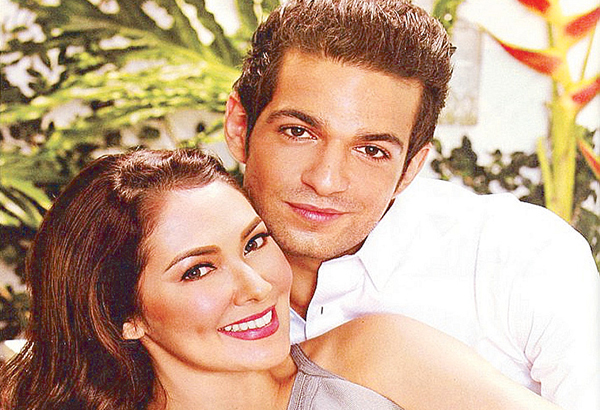 What do they say again? Yes, you can't judge a book by its cover. I beg to disagree, at least in the case of Ruffa Gutierrez who has just released her own book titled Truth & Lies My Mother Told Me, a modern woman's guide to finding love today, following that of her mom Annabelle Rama's 'Day, Hard!, both published by ABS-CBN Publishing, Inc.
First, Ruffa justifies the title by confessing in the Dedication, "My own Mother did everything in her power, and I mean everything, to protect me from the big bad world, to protect me from myself, and to protect me from breaking my heart. Of course, I didn't always see it that way. Sometimes, I listened and sometimes I was too stubborn to care. There were times she was right and there were times she went overboard. But no matter what, she never gave up on me. Even when I had to learn the hard way."
Adding in the Introduction, "Even my mom, the unapologetically blunt Annabelle Rama, told me, when I started writing this book — 'Day, 'wag mo nang ikwento 'yang love life mo! Walang magbabasa niyan.' What do I know about finding true love and romance, about loss, and moving on?"
And what are the "truths" and the "lies" that Mom Annabelle told Ruffa? I will let you find out for yourself. (Get a copy at any National Bookstore outlet.)
What I found interesting in the book is not Ruffa's fashion sense and style, nor her tips on how to find true love, but her colorful and dramatic romances which she enumerated in blind items. It was unnecessary because, as Ruffa herself admitted, her life is an open book read and reread by showbiz-watchers. On the cover, Ruffa is shown in a full-body shot, her left arm on her hip, with a slit in her dress revealing a portion of her upper right leg. That's why I said that in Ruffa's case, you can judge her book by its cover — that is, her cover photo tells it all…well, almost!
Let's take a look at Ruffa's roster of boyfriends starting at age 16, all of whom she doesn't identify and hides behind "tags," except Yilmaz Bektas whom she married and separated from and her current flame, French-Israeli Jordan Mouyal.
A roll call is in order (at the end of each is my guess "da who" he is, but only the initials if you please).
Dreamboat — It was puppy love, according to Ruffa. Like her, Dreamboat came from a family of artistas and spent his growing-up years in the States. "He was a dreamboat — polite, romantic, not to mention very tall and quite handsome." They met at an acting workshop and soon fell into "a sweet and innocent kind of relationship" that lasted on and off for four years, with other guys getting into and out of Ruffa's life. Dreamboat is now happily married to an actress (whose first marriage to an actor was annulled) and they have two beautiful children. My guess: ZL.
Mr. Exciting — He emerged in between the years that Ruffa and Dreamboat dated. "The episode was short," wrote Ruffa, then 17, "and we barely had any time together." Dreamboat and Mr. Exciting almost got into a big fight when their paths crossed at El Niño Apartelle (oops! there's your clue!). "We were all going to the Star Awards For Movies. Mr. Dreamboat was my date, and Mr. Exciting was there to pick up my other friend, whom he was sort of dating at that time. Anyway, they almost fought. Mr. Dreamboat was trying to establish ownership — of me! He made sure it was clear I was his girlfriend. He even said to Mr. Exciting, 'Back off!'" Mr. Exciting is now married to an actress-beauty-queen with whom he has two beautiful children. My Guess: AM.
Mr. Bad Boy — He comes from a showbiz clan and Ruffa's romance with him was nipped in the bud by the interference of Mom Annabelle. He was very charming and he made the girl of the hour feel like a queen — "For me, he would inspect the toilets, wash forks and spoons before I ate" when they were on the set. One time, recalled Ruffa, Mr. Bad Boy showed up on the set with a tattoo of Miss World that said: My World. That was after Ruffa placed Second Princess (second runner-up) in the 1993 Miss World pageant. "He would make 10 people follow me wherever I went while we were doing the film together, so that's just crazy!" Mr. Bad Boy is now married to his second wife, a TV host, after his first marriage to a non-showbiz lady was annulled. My guess: RP.
Mr. Complicated — Ruffa met him during their teleserye together. They had fun moments on the set. Before long, "he started getting a little nicer, a little sweeter…he would send food to my tent where he would hang out with me." They went out on and off for about two years. One time, "his girlfriend called me in the middle of the night, crying!" But that was already after we broke up. During their "secret" romance, Ruffa and Mr. Complicated traveled together and were once caught by a paparazzi holding hands while walking outside of a posh hotel in Beverly Hills. Mr. Complicated is now fancy-free after he broke up with his second (or third?) actress-girlfriend after Ruffa. My guess: JLC.
The whole world knows what happened to Ruffa and Yilmaz's marriage but it still tickles your imagination reading the details in Ruffa's book (no need to recall here; just, again, get a copy of the book).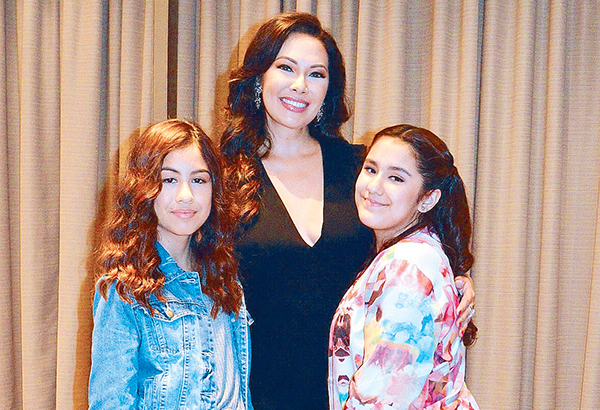 Ruffa Gutierrez with daughters Lorin and Venice.
Now, despite objections from Mom Annabelle, Ruffa is defiantly in love with current boyfriend Jordan Mouyal who, according to Ruffa, is the only suitor that she introduced to her daughters (by Bektas) Lorin and Venice.
"I'm very proud of him," wrote Ruffa, "he survived my mom. He never ran away, never got scared and stood by my side when the going was tough…He never says anything bad about my mom. He always says, 'I totally understand. What's important is how you feel. Your mom will always be your mom'."
Has Ruffa finally found her OTL (One True Love)?
Only Time can tell.
(E-mail reactions at entphilstar@yahoo.com. You may also send your questions to askrickylo@gmail.com. For more updates, photos and videos visit www.philstar.com/funfare or follow me on www.twitter/therealrickylo.)