Back to Top
It's raining fun in TV5's Signal No. 5
TV5 stirred up a programming storm last June 25, during the trade launch for its third quarter blast. Dubbed Signal No. 5: Umuulan ng Saya, the event gathered some of the network's business partners, media agencies, key sponsors and other VIPs. TV5 president and CEO Noel C. Lorenzana (ECL) opened the festivities and re-affirmed the network's commitment to provide quality programming. "The new TV5 programming launched today underscores our strong commitment to the future and the continuous growth of the broadcast industry here in the Philippines and overseas. This is the network to be with. Today, we hope you can see it, and we look forward to a very long-term working relation with everybody in this room," ECL said.
The trade launch was jointly hosted by Gelli de Belen, Tintin Bersola-Babao and Edu Manzano and had attendees all enthused by what promises to be an exciting and innovative program line-up of the Kapatid Network. The TV5 "storm" officially makes its landfall on July 7 with an even stronger morning TV block via the back-to-back Season 3 premieres of two of the network's most engaging programs: Face the People (at 10:15 a.m. to 11:15 a.m.) with seasoned host Edu Manzano now forming a formidable triumvirate with Gelli de Belen and Tintin Bersola-Babao, and Let's Ask Pilipinas (from 11:15 a.m. to 12 noon) with funny singer-songwriter Ogie Alcasid as the new host of the country's favorite interactive game show.
TV5's evening line-up also takes on a new twist with two hit Koreanovelas — the fantasy-drama Bride of the Century (at 9 p.m. to 9:30 p.m.) and the romantic-comedy Cool Guys, Hot Ramen (from 9:30 p.m. to 10 p.m.) — both premiering on July 7.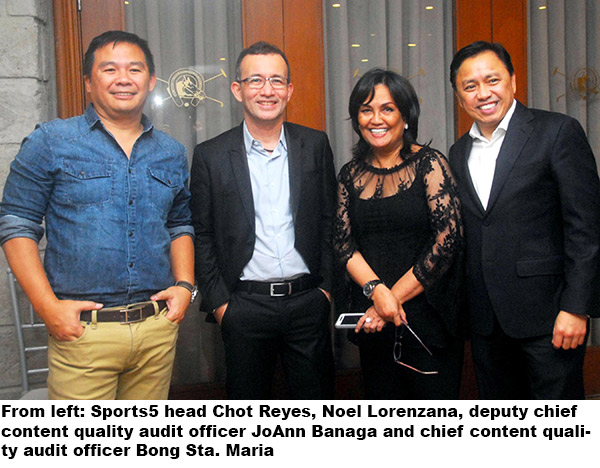 The Kapatid Network's weekend domination continues with the free-TV airing of It Takes Gutz To Be a Gutierrez (Saturdays at 7 p.m., beginning July 5) featuring the inimitably feisty Annabelle Rama and her colorful family. Then, there's the much-awaited return of Talentadong Pinoy, the longest-running and original talent show of its kind that stirred a host of copycats in the country. Further, actor-sportsman Richard Gomez steps up to host the one-of-a-kind game show Quiet Please! Bawal ang Maingay! which challenges contestants to complete a series of tasks without making any noise at all.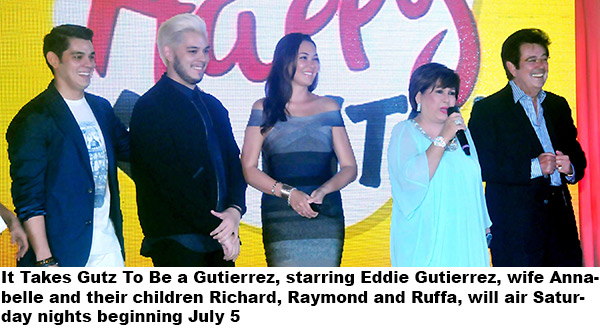 The one and only Superstar, Nora Aunor, returns on TV via the musical-serye Trenderas, featuring a star-studded cast of singers led by young performers Isabelle de Leon, Lara Maigue and Katrina Velarde. Another program in the offing is the thrilling and action-packed reality show The Amazing Race Philippines, which also returns with a bang for its second season as Kapatid hunk Derek Ramsay takes viewers across Asia.
To feed the mind and not just the heart, News5 introduces its unique ONE Brand News Program under flagship weeknight primetime news program Aksyon (at 6 p.m. to 7 p.m.) anchored by Erwin Tulfo with News5 head Luchi Cruz-Valdes, hosting a special segment titled Reaksyon. This is carried throughout the day starting with Aksyon Umaga (from 5:00 a.m. to 7 a.m.) with Martin Andanar, Grace Lee and Lourd de Veyra. Noontime news on TV5 will be delivered by Raffy Tulfo and Cherie Mercado via Aksyon Tanghali (at 12 noon to 12:30 p.m.) while Aksyon Tonite (from 10 p.m. to 10:30 p.m.) rounds up the day's most relevant news as delivered by the tandem of Paolo Bediones and Cheryl Cosim. Avid fans of popular public service program T3 can now catch the Tulfo brothers on an earlier timeslot daily at 12:30 p.m. to 1 p.m.
Meanwhile, coming in at hurricane intensity is TV5's much-vaunted sports coverage featuring the fabled journey of our very own Gilas Pilipinas to the FIBA World Cup in Spain from Aug. 30 to Sept. 14. With TV5's exclusive live free-TV airing of all the Gilas games, Pinoy hoops fans will be in for some edge-of-your-seat action, starting with the team's key international tune-up tournaments at the FIBA Asia Cup (July 11 to 15) and the much-awaited Gilas vs. The World (Aug. 8 to 25).
TV5, through Sports5, is also the official Philippine broadcaster of the Nanjing Youth Olympics (from Aug. 16 to 28) and the Asian Games (Sept. 19 to Oct. 4). Sports5 is set to bring non-stop basketball action with the exclusive airing of the Manila leg of the FIBA 3x3 (July 19 to 20) and the NCAA Season 90 basketball games (Mondays, Wednesdays nad Fridays at 2 p.m. and 4 p.m., Saturdays, 12:30 p.m. beginning June 28).
Indeed, with this downpour of exciting program offerings, TV5 gives us every reason to stay home this rainy season to get the real feel of what it's like to enjoy a unique storm with the mind-blowing intensity of Signal No. 5.
Latest
Trending
Recommended